Table of Content
GreenGeeks Review of 2021
GreenGeeks 300% Green Hosting has evolved as a well-known name in the field of WordPress hosting. But a key feature that puts GreenGeeks right at the top is its eco-friendly services. There are very few firms that keep the environment's balance in mind while doing business and GreenGeeks deserves some brownie points for doing that effectively.
All this without any compromise in the quality of the service. GreenGeeks hosting service comes with a Free domain name, unlimited disk space, and bandwidth, unrestricted availability of emails and domains, and a highly optimized MySQL database. You can certainly make a difference by joining hands with GreenGeeks.
You get different plans as per your business requirements such as Shared, Reseller, VPS, and dedicated plans. The flexibility of the platform to switch packages as per the business requirements is the icing on the cake.
GreenGeeks has a record of hosting more than 600,000 websites till date and the customer base is increasing rapidly due to their extraordinary services. Moreover, the firm has also been listed in the INC 5000 Fastest Growing Companies in America for 4 consecutive years.

GreenGeeks Pricing & Hosting Plans
Before I tell you about the advantages of going for a GreenGeeks Hosting plan, let us dive into the different plans that are available.
GreenGeeks WordPress Hosting Plan
GreenGeeks offers WordPress shared hosting plans and it is apt for businesses that are just starting off or have limited storage requirements. The shared hosting plans have been broadly classified into three different categories namely Lite, Pro, and Premium.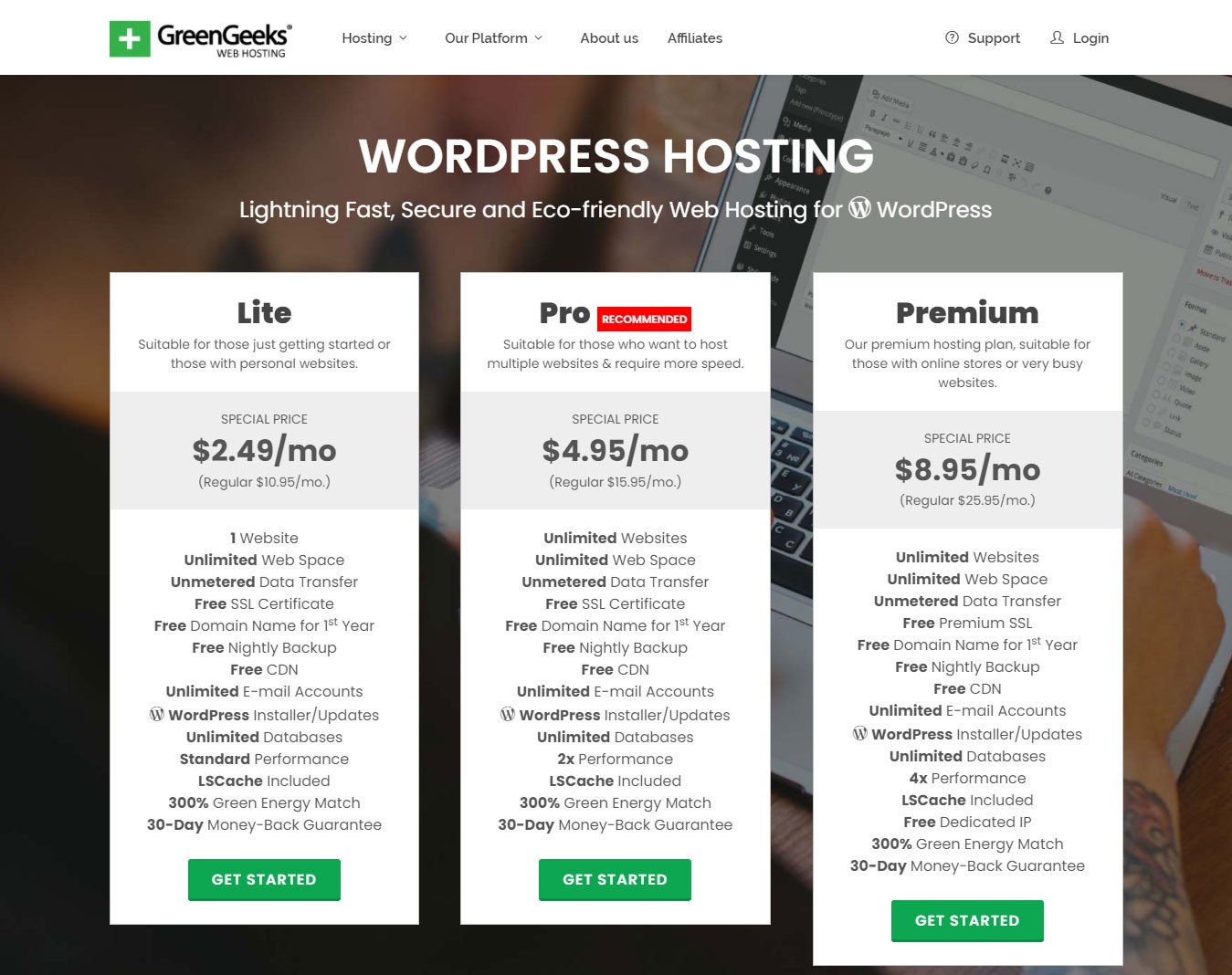 Now, let's understand the features of all three of them.
GreenGeeks Lite Plan
No.of Websites: 1
Web Space: Unlimited
Data Transfer: Unlimited
Free SSL
Database: Unlimited
Price: $2.95/month
GreenGeeks Pro Plan
No.of Websites: Unlimited
Web Space: Unlimited
Data Transfer: Unlimited
Free SSL
Database: Unlimited
Price: $5.95/month
GreenGeeks Premium Plan
No.of Websites: Unlimited
Web Space: Unlimited
Data Transfer: Unlimited
Free SSL
Database: Unlimited
Price: $11.95/month
As you can see, the only difference between Lite, Pro, and Premium is that Lite allows hosting just one website while the rest two provide unlimited websites.
Try GreenGeeks. Get Started Now
Pro Tips: If you select a 3-year plan then you get the best deal from Greengeeks, 1 year plan always costs a higher.
For the monthly payment system, you will need to pay $10.95/month plus an additional setup fee($15) which is exclusive of the money-back guarantee program.
GreenGeeks Managed VPS Hosting
The second one is the managed VPS hosting and it again is divided into three categories solely on the basis of storage. The classification is as follows:
GreenGeeks Reseller Hosting
The third category is Reseller Hosting. If you are someone who wants to set up their own small business, Reseller Hosting might be the most suitable option. This is again available in 3 categories.
I hope that the above data helps you in selecting the perfect hosting plan for your business. The customer support of GreenGeeks will further guide you in selecting the plan that suits the business.
Why GreenGeeks Is The Best In What They Do
Eco-Friendly
As the name suggests, GreenGeeks is green in its approach. The servers at the GreenGeeks data centers are always working and are kept in an environment where overheating is controlled.
The focus is on minimizing waste and promoting the green cover.

Fast
The speed of your website is going to be one of the deciding factors in the growth of your business. That's how you are going to make a difference in a fast-paced and neck to neck competitive environment. The server speed of GreeGeeks is excellent and makes transactions lightning fast and smooth.
Datacenter
GreenGeeks have 4 datacenters (Chicago, Phoenix, Montreal, and Amsterdam) of their own and this guarantees fast speed in different parts of the world. Various noted speed testing platforms have tested GreenGeeks server speed and the result was mostly in between A and A+.

Improved Optimisation
GreenGeeks are improving their hosting services every year and the optimization that helps in boosting the speed is proof of it. The optimization software increases the page-loading speed significantly.
Powercacher
With GreenGeeks, you get an in-house cache Powercacher that is combined with LiteSpeed Cache website acceleration (LSCache) to further boost the loading speed for pre-loaded pages. Network protocols like HTTP3 / QUIC are also available.
Uptime
The loading speed and site availability are two main things that prevent your clients from getting distracted or irritated. GreenGeeks offers more than 99.9% uptime which is a blessing for your business growth. You will also get some or other kind of compensation whenever the server goes down which is a rare event anyway.
Last 12-month average uptime
January 2020 average uptime: 100%
December 2019 average uptime: 99.99%
November 2019 average uptime: 99.99%
October 2019 average uptime: 99.98%
September 2019 average uptime: 99.98%
August 2019 average uptime: 100%
July 2019 average uptime: 100%
June 2019 average uptime: 100%
May 2019 average uptime: 99.99%
April 2019 average uptime: 99.94%
March 2019 average uptime: 99.98%
February 2019 average uptime: 100%
Security
GreenGeeks gives huge emphasis to security and it provides assurance to the clients that their business is the same and attack-proof.
Professional Support
GreenGeeks have been in the hosting business for over 40 years and they have a very professional team of experts who have an in-depth knowledge of hosting and platform as a service. You can always ask for professional help whenever you stumble upon some technical blocks.
The response by the help center is amazing and you always have someone to help you with the problems you are facing while hosting your website.
Data Privacy
Privacy and Security are two things that maintain the integrity of your business intact. With GreenGeeks you can be assured of your data is safe, secure, and exclusively accessible just to you. The data is protected by SSL encryption technology.
The chances of a breach are very rare but even if something like this happens, the customers are alerted within 72 hours and action can be taken easily. You also have the right to erase the data in case of the privacy getting compromised.
Money-Back Guarantee
With GreenGeeks, you get a 30-day money-back guarantee. This means, within 30 days of signing up, you can opt for a refund, in case you are not satisfied with the service. You'll be able to keep the domain even after opting for a refund. The refund does not include the domain registration fee.
Try GreenGeeks. 30-Day Money-Back Guarantee
Backups
magine a situation where you lose all your data. All your hard work and progress gone just like that. To save you from such a situation of crisis, there's an automated backup option available with GreenGeeks. Specially for shared hosting plans, the backup facility is really helpful. The fear of losing your data gets eliminated.
You also get a free restore option with GreenGeeks. The first restore every month is free of cost and after that, you can get the restore option for $25.
Another concern that many people have about any hosting platform is the performance in different aspects. We have assessed the performance and speed with different servers for different locations.
Speed
The first criteria to judge is the speed and it will be fair to say that GreenGeeks servers are really fast. The setting is such that your website will be hosted on the nearest data center and that ensures great speed. The host speed ranges from E to A+ and it has been verified by several test sites.

I have added speed test results from both Canada and US hosted sites. Average Load Time: 325 ms
The speed of GreenGeeks hosting is 94% more than other websites and that's a big plus for your online business. The performance score remains above 80 most of the time.
GreenGeeks Response Time Test
How your site responds to requests from different locations across the globe is another constraint to judge the performance of the hosting. Below are the results of a very popular Response time testing tool called Bitcatcha.
Load Impact Test
How your site responds when there's high traffic is key to the success of your online business. According to several tests conducted by the in-house team, the site performed exceptionally well even with 100 unique visitors visiting the site at the same time.
GreenGeeks Performance Tests
Performance test is something that is not just measured using the tools but by evaluation of the above 3 responses. For WordPress beginners, GreenGeeks has performed exceptionally well. Since there's a money-back guarantee, you can check the performance yourself. There have been thousands of positive feedback about the great performance of GreenGeeks hosting.
Pros and Cons of GreenGeeks
There are two constraints to decide the value of any service, the Pros, and the Cons.
Pros:
Environment Friendly: GreenGeeks has strong policies for ensuring an environment-friendly business module. The environment is always on priority and energy-saving techniques are implemented.
Affordable: If you are someone who is just starting off with an online business, the affordable GreenGeeks packages will fit your budget and won't leave a hole in your pocket.
High-End Support: A team of professionals is always on their toes to help you out in case you face any difficulty while setting up the hosting.
Cons
No 24/7 Phone Support: One minor problem with GreenGeeks is that customer support is not available from midnight to 9 am. However, you can use email support or live chat in the early hours.
Setup fee: If you opt for the monthly billing, you'll need to pay a $15 setup fee. To save this fee, you can pay yearly.
GreenGeeks Hosting Alternative

Bluehost is a vast web host known for its WordPress expertise, variety of "one-stop-shop" services, and bargain prices. It was established in 2003 by Matt Heaton and Danny Ashworth in Utah and has become one of the world's biggest providers of most reliable, trustworthy and cheap web hosting.

A2 Hosting is delivering the best-in-class speed for so many years, which makes it a leading hosting provider of all time. We have been testing it for the last few months and it has delivered the fastest server speeds. Also, it is a great web host for starting bloggers to set up their online business/e-commerce and more.
GreenGeeks Review
Original Customer Reviews, who tested GreenGeeks Hosting Services. Click here to read all reviews from the official website.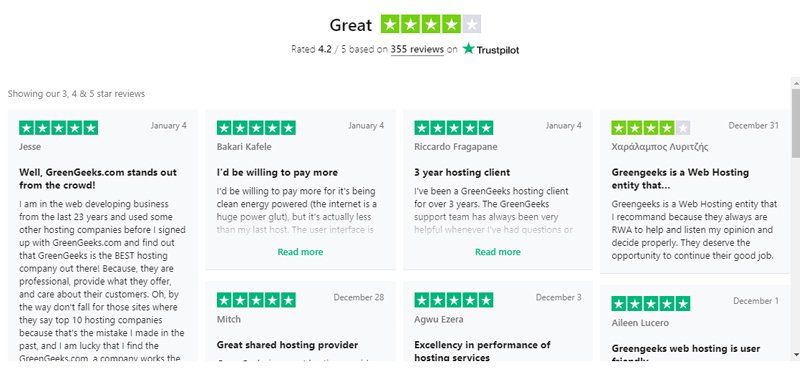 Final Word
Like any other hosting website, Greengeeks has some pros and cons. But the above data is proof that the pros outnumber the cons by a fair margin. This difference should be a constraint to select GreenGeeks as your hosting service provider. GreenGeeks is independently owned and interference of external agencies is not possible.
They focus a lot on customer satisfaction and the flexible plans allow you to select a plan depending upon your business requirements. Features like SSL assure the security and privacy of your important data.
Over 99.9% uptime and fast page loading speed make GreenGeeks one of the best in the business. You get a money-back guarantee and unlimited resources that make the case of GreenGeeks stronger.
The decision is yours to make.
Happy and Safe Blogging 🙂
Elementor Review 2021: Is It Really #1 WordPress Page Builder?
GreenGeeks Frequently Asked Questions
1. Where is GreenGeeks Headquartered?
GreenGeeks is headquartered in Agoura Hills, California. The company was founded in 2016.
2. What is meant by Green hosting or Eco-friendly hosting?
A lot of energy is wasted in the entire hosting process. The company makes sure that hosting procedures are energy-efficient. GreenGeeks purchase credits to offset the energy that is not used.
3. Do GreenGeeks offer cloud hosting?
The answer is no. GreenGeeks do not offer cloud hosting. However, they offer virtual computers with dedicated resources under the VPS plan. You get 4 CPU cores, 2 GB ram, 50 GB SSD storage, and 10 TB bandwidth.
4. Is Reseller hosting option available with Greengeeks?
Yes, you get three tiers of reseller hosting with GreenGeeks. The starting price for the package is $19.95/month.
5. Is Dedicated WordPress Hosting necessary for using WordPress?
No, you can use WordPress even if you have a basic shared hosting plan. You can install WordPress using cPanel.
6. Does GreenGeeks provide Windows Hosting?
No, As of now, GreenGeeks only provides Linux/Unix hosting. You'll need to use a dedicated server for Windows hosting
7. Does GreenGeeks have a money-back guarantee?
Yes, GreenGeeks provides a 30-day money-back guarantee for all plans. However, a 30-day money-back guarantee plan is not available for dedicated servers. Also, the cost of any free domain will be deducted.
8. What are the payment options accepted by GreenGeeks?
You can pay for the hosting plans at GreenGeeks using all popular Mastercards, Visa cards, American Express, Discover, and PayPal.
Author: Prajjval Tripathi