Start Your Profitable Blog in 2021 For Beginners
Want to know how to start a blog in 2021 and make money online by blogging without any technical knowledge?
Yes, you can do both at the same time.
If you follow your passion and write blogs on your interest topic then you can reach heights and make extra income or even make a living from your blogs.
It can be a challenging process in starting but if you stay focused you can easily do blogging and make money online from your blogs.
We are helping many people to follow their passion and they are also getting lots of benefits if you also want to see what benefits they are getting from blogging then go through this article and you also start making money by following your passion.
Benefits of Blogging
To enhance your writing skills
Enhance your confidence level
Be your own Boss – freedom of time and money
Boost your presence on online platforms
Understand about your passion
Make money online by using your skills
Help your customers and make good relations with them
Build your online identity
Tell more n more people about your service or product
And get many more benefits when you become a blogger
Yours could be one of the above reasons or any other, blogging could help you achieve your ambition and now you got an idea that how blogging will help you further. Or when you start writing blog you have more opportunities to grow your blog faster than others who will start later.
So let's start with the detailed procedure to start a blog. Given down are step-by-step blog detailed article has focused on how to start a blog in 2021. It will cover all the most important topics for you and makes it easy for you to create a blog without any technical knowledge.
Steps to Start a Blog in 2021
Step 1. Select the Best Niche For Your Blog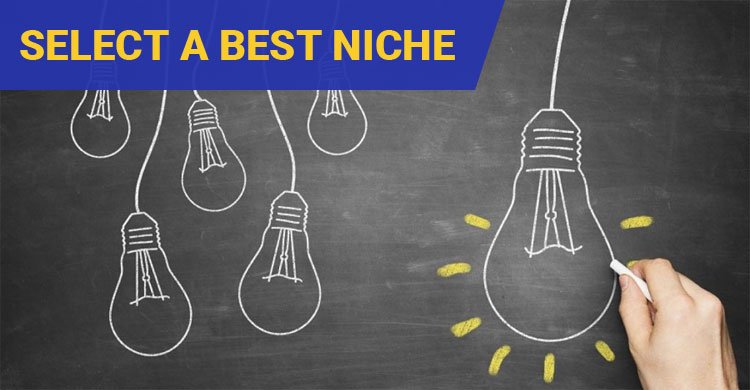 Niche is what your blog is all about? It is the topic on which you are going to write.
It is the most important step at the time of starting a blog where so many beginners get stuck. Most of the bloggers quit blogging in just a few months because they have chosen the niche in which they are not even passionate or interested in.
If you want your blog to get successful firstly find your niche. Understand how you can make money online from it, and see actually who your ideal audience is. Choosing the wrong niche can break your way in the beginning.
Basically, Niche blogs are easy to write and monetize. It is a topic that you write about more often in your blogs. Niche blogging is creating a blog to promote in a particular market. These are consisting of ads, associated links and that is how they become profitable for you.
Now, the question that arises in mind is how to find the niche or topic for your blog?
Think about one very important thing when you are thinking about a niche for your blog. Are you doing blogging for any profit then you don't want to choose a topic that gets lots of audiences, but gets no income or money?
Some of the topic like:-
Tips for WhatsApp
Downloads Free movie online
Free SMS
Free wallpaper
And more.
These types of niches will get you a lot of audience on your blog but probably won't get you much income as you expect.
But at that time you don't want to pick a niche which is too tough for you to write or blog.
So what will be a good niche for your blog?
A good niche is mainly considered to be what you like, what is your interest topic, and it will automatically attract a good audience to read your blog. Remember, that your niche should also have a future.
Example:- Why to make a career in typewriter when the computer/laptops or tabs and much other advanced technology will be coming out in upcoming years?
Some of the key points that you should take note of when picking a niche:
Trending & Future of the Topic
Your Passion or Interest Topic
Business Value (CPC)
Do Monthly & Yearly Searches for Topics
Now think about all the above points and your mind is filled with ideas if you are doing blogging to earn money online from your passion.
Focus on these factors to earn money from your passion and get the best niche for your blog.
Are you passionate about working on that niche?
Can you update and share the article of that niche?
See that you can make money online from that?
Are they having enough affiliate programs or not?
Is that niche is consisting of a good quantity of keywords or not?
Can you solve your audience queries with your writing on that niche?
After reading the above explanation about how to get a good niche, now go to the next step which is also an important step in blog writing.
Step 2. Choose the Right Blogging Platform

Where Should You Create Your Blog?
There are tons of blogging platforms in the market, and many users have different opinions about each of them.
We recommend you to use WordPress.org. It is a very popular platform and easy to use.
Most of the Bloggers are earning money online because they are also using the WordPress platform. 40% of the websites in the world are running on WordPress.
When it comes to popular blogging platforms, we recommend you to choose one of the following options: free and self-hosted
Free Blog platforms
There are some free blog platforms such as WordPress.com, Blogger, or Tumblr, especially for new bloggers. This platform will own your name if you keep your blogs on a free platform. You will get restricted in their rules and regulations. If you are aiming to make money online with the blog, then they may prohibit the ads you put on your blog or place their own ads. But if you don't like then prefer to self-hosting platforms.
Self-Hosted Platforms
It will allow you to start a blog and publish your post using your own domain. If you have a self-hosted system (also known as Content Management System or CMS) you may have so many choices and the best one for you is WordPress.org. Here you will use your own web hosting space and name.
Step 3. Find for a Good Web Hosting and Domain

To start making money from your blog, you need web-hosting and domain,
If you don't know anything about both, then we will show and tell you about it.
Domain Name – The domain name is the name of the website which viewers type in their browser and see your website.
Some example of Domain Name:-
HTTPS://(Hypertext Transfer Protocol)
www (the subdomain)
.com(Top Level Domain)
webtechnicaltips (Domain Name)
Web Hosting – A web hosting is where all of the documents of your blog are stored and show your blog lives when somebody wants to access that. Hosting resembles the hard disk of the PC, which stored all of your information (pictures, posts, pages, and some more) and kept your information or data safe. That is how your website will be up and running 24/7.
If you are thinking that from where do you get these then don't worry there are lots of web hosting which you can use to start your new blog. We recommend you to use Web Hosting which is providing a Free Domain and access to WordPress.
Which WordPress Hosting is Best For You?
Then we suggest you go for Bluehost hosting as it is a good choice because it offers everything you need to create a blog.
Features like:
Free domain name (Save up to $12/year)
Free CDN and SSL certificates
30 – days money-back guarantee
Unlimited bandwidth and storage
Live chat support
Easy to use cPanel.
And the best thing with Bluehost Web Hosting is that it will cost you only $2.95/month.
Why do We Suggest Bluehost For WordPress Hosting? – Bluehost Review
How to buy it:
Go to Bluehost.com
Click on Get started Button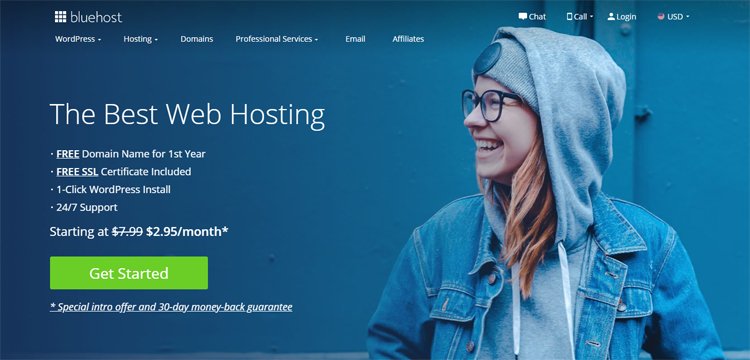 Choose the Basic plan if you want to start one blog or Plus plan if you want Multiple Blog.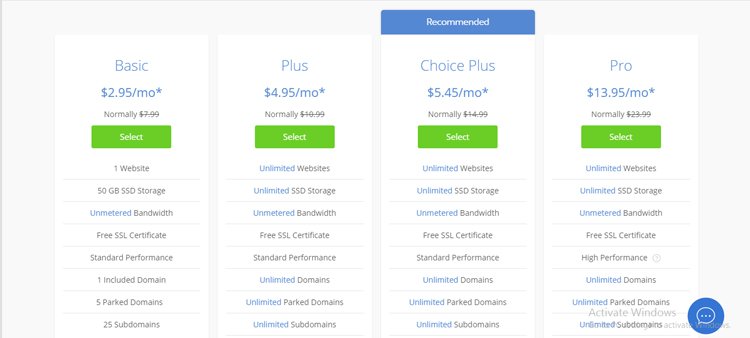 On the next step, you can maintain your free domain name. If you are not ready with your domain name for any of the reasons, then you can also click on Choose later.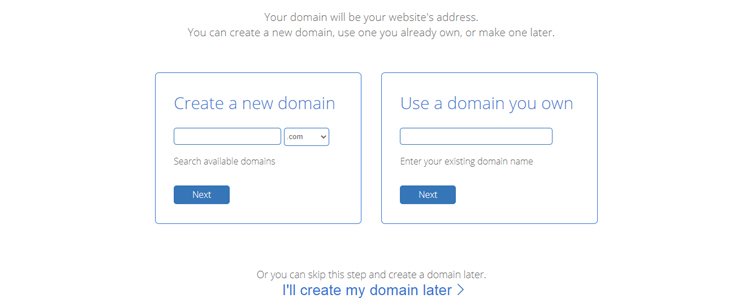 Now pay attention to this page, fill up your contact details and tick on the extras you want, you can also unmark or skip a few things to save more money.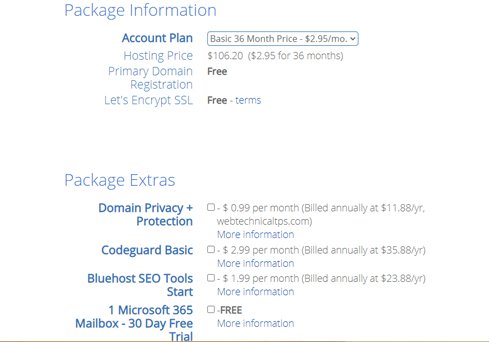 Apart from the Domain Privacy Protection option, un-tick to everything.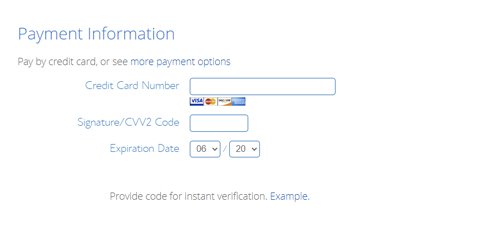 At last, read the disclaimer and any terms and conditions carefully before confirming for the payment.
When you have done with the above procedure of buying a good web host, select a perfect domain name for your new blog.
Choosing the website domain is not very hard and you can easily choose a perfect domain name for your new blog. If you have chosen or decided your domain name so you can skip to this part.
But if you haven't then here are some tips for you to find out the best domain:-
Keep your domain name short & simple
Use Keyword that will also help you in SEO
Avoid Use of Numbers in it
$49 Bonus For You

If you Buy hosting with our Affiliate link then you get a $49 Bonus [WP Rocket Plugin],
Just Share the invoice on my email id [email protected]
Step 4. Set up WordPress Blog on Hosting
How to Set up a WordPress Site and Make it Live On the Web?
All best web hosting organizations permit you to install WordPress. They usually come along with WordPress in their package and the installation process will take less than 5 min. to get started with the software.
Install WordPress with Bluehost Hosting
Sign in to your Bluehost account
Click on My Sites after that click on Create Site

Give your new WordPress site a name and a tagline.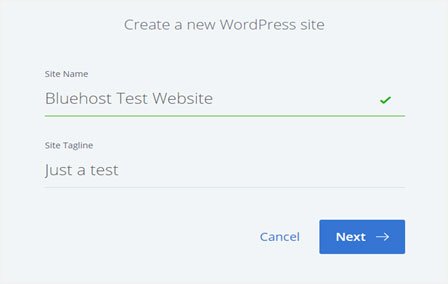 Select the domain you want to use for your WordPress Site, and also un-tick the plug-ins you don't want.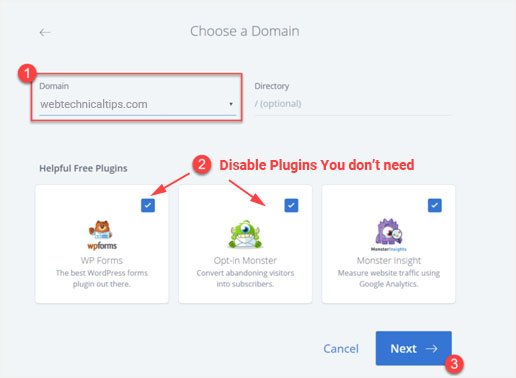 And also remember to note down your WordPress website's URL, Username, and Password.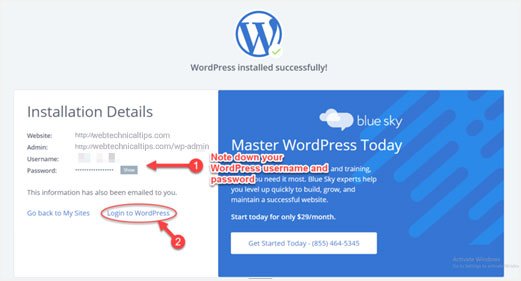 Now the next step is selecting a theme, it is an essential part of blogging also. It is something how you are going to live in front of your audience and viewers. Make your website presentable and eye-cache for your viewers, so next time they prefer to come to your blog only and they also share your blog with others and give good views.
Step 5. Select a WordPress Theme According to Your Blog Type
The visual appearance of your WordPress powered site is constrained by Themes. There are a huge number of WordPress themes offered for you to look over. With such a large number of choices and it may be a little confusing for beginners. Choosing a good theme is tough but selecting the perfect theme makes your website looks good and presentable.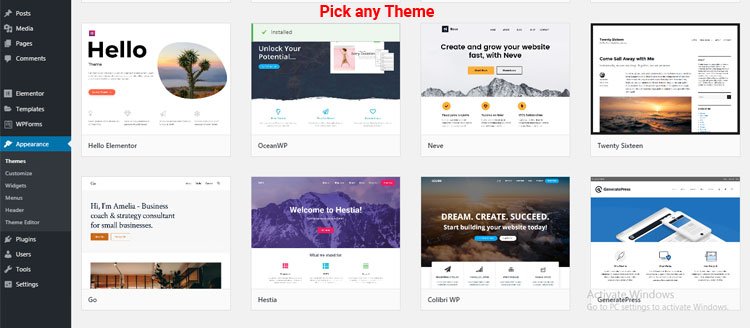 In this article, we have the main focus to help you with the best and most popular WordPress themes. Depending on your use case, you can choose the one that best suits your requirements.
Here are the best and top WordPress themes available in the market that we have searched for you
Astra – It is a theme that can be customized easily and lets you build a website the way you want your site to be. There are lots of demos, which you can apply on your blog with just one click and then you can customize the look per your choice.
Divi by Elegant Themes – one of the trendiest and a multi-purpose WordPress theme in the market is Divi by Elegant Themes. It comes along with a built-in drag & drop builder. You can use this theme to create any type of design or layout. You will have the advantage to get 20 pre-made Divi layouts that you can use to jump-start your new project at any time.
Divi allows you to save your custom layouts in the Divi library, so you can re-use them later as needed.
Ultra – this theme is created by Themify. It is the most powerful and flexible WordPress theme. It is very easy for you to create any type of website with a powerful drag & drop builder.
You can also import their demo setup that includes so many theme settings, content, and many more. This theme will also help you to kick-start your new blog site.
OceanWP – It is perfect for travel projects. It highly extensible and a trivial theme, it will enable you to create almost any type of site with a beautiful and professional design.
It will bring lots of customization possibilities like access to all Google Fonts, layout control, full-color control, logo upload, header image, full-screen slider, sticky navigation, and many more.
GeneratePress – this simple and straightforward multipurpose theme that mostly fits all types of the sites. It has a blog-style layout and a shop section as well.
This theme is generally known for its features like customization options, great layout manager, and page builder support.
Avada – it is the #1 selling premium WordPress theme of all-time. This theme comes with 255+ pre-made web page designs and 41+ pre-made fully-featured websites.
Its sole purpose to help you start as soon and as fast as you can. Their demo installer will help you to set up the pre-made content.
Storefront – it is developed and designed by the WooCommerce core development team and also it is a default theme for the popular WooCommerce plugin. There are lots of layout and color options available for you. You can easily customize your blog with these features.
Step 6. To Add More Features to Your Blog Select WordPress Plug-ins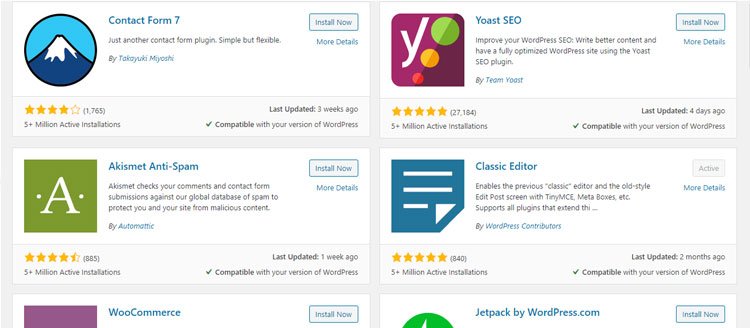 Choosing the right set of WordPress Plugins and tools can help you grow your blogging. WordPress comes along with a massive collection of Plugins. They are like apps for your WordPress site, allowing you to add new features to your website. It comes from a huge collection of Plugins. There are 55,000+ Plugins that are currently available. It will take your blogging to the next level in 2021.
While searching for the best Plugins that will suit your requirements, you want to look for the following factors:-
See customer reviews, ratings, and overall popularity.
Whether the particular features, as well as usefulness of the Plugins, matches what you're hoping to accomplish.
How recently the Plugins was updated.
The price and plan options are available.
Some of the popular Plugins, based on the actual download number from WordPress.org are
Yoast SEO – One of the best Plugin used by lots of people and also loved by lots of users like this plugin Yoast SEO is used by everyone who has a blog or site on WordPress. It can be hard to find websites that DON'T have Yoast SEO installed. It is very helpful for you to improve the overall SEO score of your blogs.
Rank Math – easy to install plugin tool has gradually an expert to set up SEO on your WordPress website. You can use your blog posts to track your keyword rankings on Google.
UpdraftPlus – sometimes unexpected circumstances arise and your site gets shut. So, it is important for you to take some of the precautionary measures to back up your site.
It will help you to back up your website directly to Google Drive, cloud on Dropbox, and Amazon S3. It restores your site with only one click and also schedules to set up an automatic backup.
WP Rocket – it is a premium cache plugin for WordPress. WordPress experts say that it the most powerful caching tool. Your sites will load faster, which is an essential part to improve the SEO rankings of your blog.
Elementor – it allows you to easily create custom WordPress layouts without having any coding knowledge and it's a drag & drops WordPress page builder.
WPForms – Every site needs a contact form because it makes it easy for your audience to get in touch with you. It is a user-friendly contact form plugin for WordPress.
This WPForms will allow you to easily create the contact forms, online order forms, payment forms, and also do surveys, polls, and basically all other types of online forms with just a few clicks.
Social snap pro – The best WordPress social plugin that helps you bring more traffic to your site and increase audience engagement by influence and the power of social media.
Wordfence security – most of the WordPress plugins come with a wide range of features and are diverse. Wordfence puts security on your website to keep it safe from the hateful audience. It also offers you a malware scanner and a secure login system.
After adding the best Plugins and themes to your blog, it looks and presentable, now there will be lots of traffic on your blog.
Congratulations! Your WordPress site is now up and running!
Now, comes the part which you should be doing over the period of time and that is adding new content.
Step 7. Write Your First Useful Post and Publish it

Before writing your first blog, you should prefer to do content planning and then execute on it.
Write down content topics or make an idea of what type of content you could write.
So next time you don't have any problem and you start writing your blog easily.
Here are the guidelines to help you decide what your first blog post should be about.
When you are writing your content for your blog, imagine that there is a person sitting next to you to whom you are talking. Write in the first person manner, because there is a single person who is reading your blog.
Feel free to write 1000+ words, because there is no limitation of words. In your content, you have to cover all the details of your topic
Make sure to not copy images from Google.
You can also embed the videos from YouTube.
For writing your first blog post, you have to go: Dashboard → Post → Add New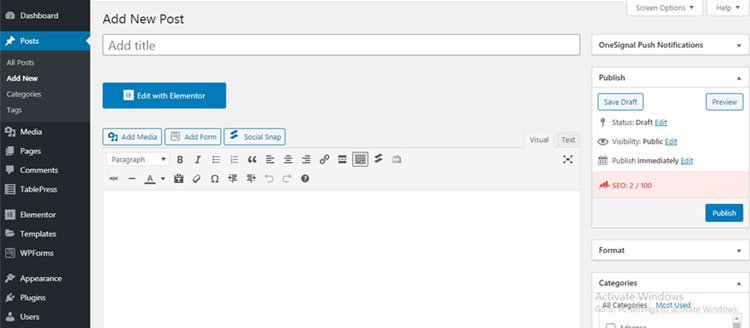 So, you have covered everything that you need to write a blog and now your first blog is live on the web.
Now, we are going towards the favorite step of Every Blogger.
Step 8. The Bonus Part of Blogging (Make Money Online)
Before getting started with this part, CONGRATULATIONS to you! Because your first blog post is now live on your blog.
Now Let's Get Started with the Bonus Part
There are so many ways from which you can make money online from your blog. But, we will tell you some of the best ideas which you can use to earn money from your blog.
Are you excited to make your first dollar online? 
If yes, then let's move on to the list that we have created for you:-
Do advertisements on your blog – Most of the common ways that a large number of blogger uses to convert their traffic and make money out of it.
Two leading websites in the market, you can apply to their program and make money from there – Google Adsense and Media.net.
Affiliate Marketing – This is one of the helpful methods to earn money online. In this method, you have to promote other products on your blog, and if you can get a sale of that manufactured goods so then, you will also get a commission from the proprietor of the manufactured goods.
Best Example: Health Product, Digital Product, Softwares …
Best Affiliate Platform: CJ, Clickbank, ShareASale, Amazon Associates
Offering your Service – If you are an expert in SEO (Search Engine Optimization) so you can offer a service to your viewer, and they will directly pay you. This is one of the best and fastest ways to earn money from your blogs.
These are the ways in which you can use to bring income from your blog. In any case, always remember that if you need to earn money/income from your blog so you need to keep some patience and don't get impatient, do hard work on your blog content, and you will see a huge development in your blogs.
Watch Complete Tutorial, How to Start a Blog
FAQ about How to Start a Blog
How to Start a Blog and Get Paid?
In this article, we have already told you how to start a blog in 2021 and for getting paid you can use Google Adsense, MediaNet, and many more ways to earn through affiliate marketing methods from your new website.
Is Starting a Blog in 2021 Still Worth it?
Yes! 2021 is a golden opportunity for you to start a blog and If you are taking Blogging as a business then it's still worth it.
Do Bloggers Make Money?
You can definitely make money from your blogs, it doesn't happen overnight because the amount of money will depend on many factors but if you put in enough effort you could be making extra income or even make a living from your blogs.
It doesn't get disappointed if you have just started and blogging won't buy you a new car in the first 6 or 12 months.
What to do if your Domain Name is Taken?
Unfortunately, most of the awesome domain names have been taken already; especially if you are aiming for the most popular .com domain. But don't be bothered; if you can't get the domain you want while registering for a hosting account, they will let you choose one later. Just by clicking the skip button at the time of registration of the domain. And then you have some time to search for your domain. Think about other options or you may try other extensions like .net or any other that may fit with your blog.
Why do I Start Writing a Blog?
Do you really want to start writing a blog, what are the benefits? But firstly, think about these, that there is anything in your mind that you want to communicate, like an idea or a thought? For which you want to keep your followers updated on what is the most up-to-date with your product? Do you want to explain or tell people about how your product or service works and why people should they prefer it to buy?
A blog can help you to educate, sponsor, and even advertise, but only if you have made your mind and clear about your goal from the start. And we know that now you are looking for the benefits so here are so many reasons why people write a blog and also enjoy blogging.
What to do if I already have a free blog?
For beginners it's not an issue to shift from a free blog to a self-hosted WordPress, you can easily with some simple steps move your free blog to your new host.
Most of the free blog platforms permit you to export the content to a self-hosted platform. And WordPress provides lots of tools that will automatically import your content to the new blog.