A2 Hosting Review: Confuse about hosting selection? Then Read Our A2 Hosting Expert Review, where you find all pros and cons related to speed, uptime, performance, and offers.
A2 Hosting is delivering the best-in-class speed from so many years, which makes it a leading hosting provider of all time. We have been testing it for the last few months and it has delivered the fastest server speeds. Also, it is a great web host for starting bloggers to set up their online business/e-commerce and more.
It is very easy to use and you can install the preferred website script of your choice from Windows or Linux hosting in a single click which includes WordPress, Drupal, Magento, and Joomla. Also, their hosting plan comes with unlimited storage and bandwidth.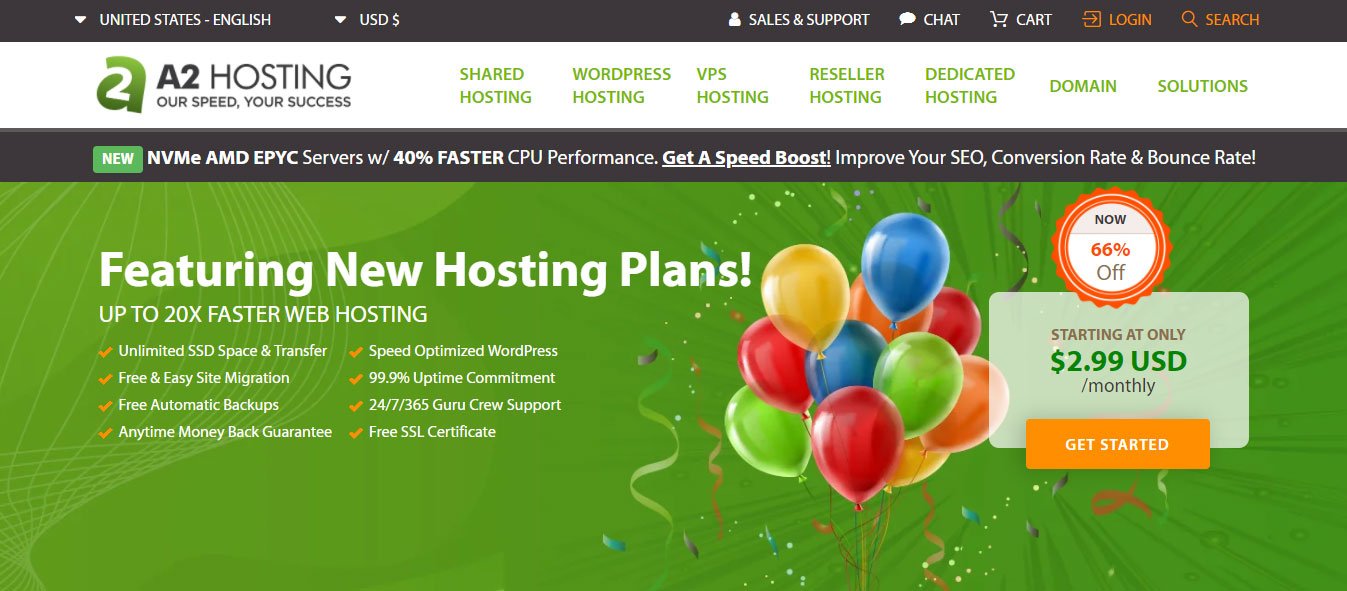 What is A2 Hosting?
It was established in 2002, as a developer-friendly hosting company that offers all flexibility you'll ever need to build a site precisely the manner in which you need.
Instead of competing with others, they have staked their reputation on high powered hosting and they have made speed and reliability their top priority. Their only strategy is to provide the best to their customers. A2 Hosting calls its SSD Server – Turbo Servers that can load pages up to 20x times faster than a non-SSD server. Also, their value-priced hosting packages come with a free SSL certificate and one free migration.
A2 Hosting Review & Features
You have to pay special attention to the features that matter to you the most when you are selecting for your ideal web hosting:-
You will get a 99.9% uptime guarantee. The company is completely transparent about their performance which is mainly speed and uptime. All of their uptime statistics are publicly revealed as they are being tracked by a third-party.
A2 will provide you with a few key security and backup tools. It will allow you to recover data automatically from the saved account backup study. A2 will protect and manage these seamlessly in the background for you so you can carry on with operating your website with no worries and you know that they will protect and manage security in the background.
A2 Customer support team is always there for you whenever you need them as they are available 24×7 and 365 days. You can get connected with them via chat, mobile number, or email. As compared to other hosts they will give you a faster response which is comparatively a speedy process.
For the newbie users who know nothing about web hosting, you can easily go through all the components to oversee and control your site totally. It will offer you an industry-standard control panel in the form of cPanel.
What Makes A2 Hosting Stand Out? – Full Detail Review
A2 Hosting has been one of the most reliable hosting solutions out there that offers you an anytime money-back guarantee as it's their best thing that makes them stand out of all hosting providers. You can get your full refund, as you can cancel your account within 30 days. After the initial 30 days, you'll be qualified for a customized refund for your unused service.
Each hosting account is additionally eligible for a free site transport by the A2 Hosting support group/team. For the faster experience, you can even go for their alternative option Turbo server.
A2 Hosting Packages
A2 Hosting options include:-
Shared Hosting
VPS Hosting
Managed VPS Hosting
Unmanaged VPS Hosting
Dedicated Server Hosting
Dedicated Unmanaged Hosting Plans
Dedicated Server Managed Hosting
Cloud Hosting
Reseller Hosting
Pros and Cons of Using A2 Hosting
There are bunches of positive and negative points to weigh up while considering A2 Hosting as your new website. Their speed is brilliant, customer support service is benevolent, their security features are ample.
Before you decide, consider the pros and cons.
Website Load Speed
A2 Hosting is one of the fastest providers of all time that we've ever experienced. They talk about speed on their web page. They have designed their entire features to make your website fast. And even the name of each pricing and plan is identified with speed like – Swift and Turbo.
They've been the fastest web host for so many years. That's not a little accomplishment in this present reality where page loading speed could be the distinction between keeping a site's customers around or losing them to the opposition.
A2 Hosting average loading time is taken and speed (2019-2020)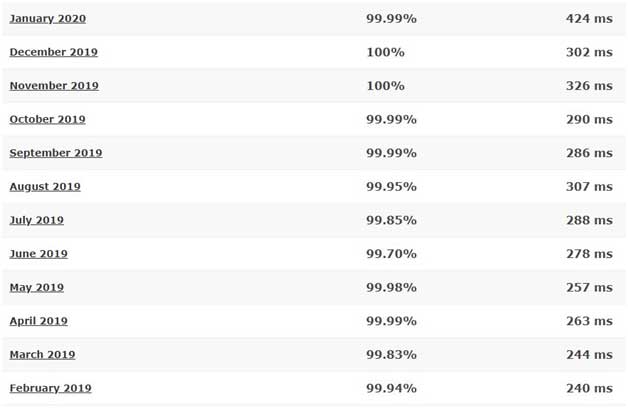 Uptime
Uptime is one of the most significant aspects or viewpoints when choosing a web host – after all, if your website is down, then your users cannot access it. So consistently good uptime should be one of your top priorities.
But from the past few months, we have been noticing that A2 hosting has a slight downturn in their performance. They have to work on their uptime. However, despite everything they have managed to accomplish an industry-standard result of 99.96%.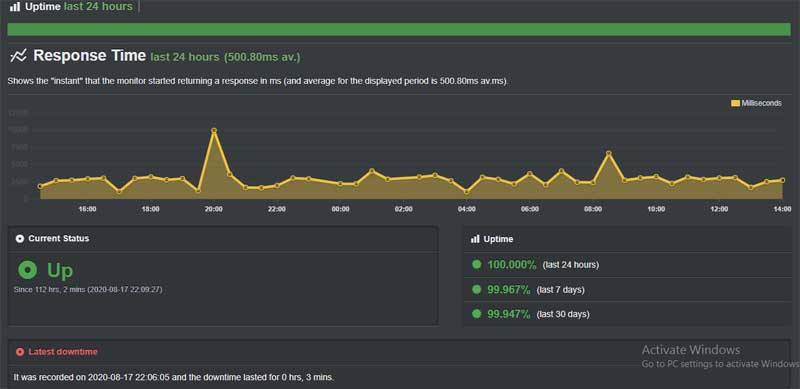 Last 12-month average uptime for A2 hosting
January 2020 average uptime: 99.99%
December 2019 average uptime: 100%
November 2019 average uptime: 100%
October 2019 average uptime: 99.99%
September 2019 average uptime: 99.99%
August 2019 average uptime: 99.95%
July 2019 average uptime: 99.85%
June 2019 average uptime: 99.70%
May 2019 average uptime: 99.98%
April 2019 average uptime: 99.99%
March 2019 average uptime: 99.83%
February 2019 average uptime: 99.94%
Security and Backup Options – Free 'HackScan'
On the web, speed and security don't generally go well together. That is on the grounds that additional checking, firewalls, or layers of encryption can regularly slow down clients.
All their servers are secured and protected by "HackScan" and 24/7 every minute of every day scans for malware and other attacks day-in, day-out.
The most ideal way to protect your site is by forestalling issues before they break out. Their data server centers are additionally versatile, which means you're protected if a denial of service attack (DDoS) breaks out. These attacks attempt to flood your servers with traffic and knock your website offline.
Free Site Migrations
A2 Hosting will move your current website over to their servers at no additional charge on all the plans. You should simply contact their client service office with your cPanel account credentials, and the rest will be dealt with.
Shared hosting customers on the Startup, Drive, Turbo Boost, Turbo Max will get a single site moved for free. But if you're purchasing the reseller, dedicated, or managed VPS hosting, you'll get 25 free migrations.
Mutual facilitating clients on the Startup, Drive, Turbo Boost, Turbo Max will get a solitary site moved for free of cost. Be that as it may, in case you're buying the reseller, dedicated, or managed VPS hosting, you'll get 25 free migrations.
Once more, this expects you can give cPanel access to your current websites. Otherwise, A2 might take a small fee for the extra work.
Customer Help and Support
A2 Hosting gives several articles in their insight base on the off chance that you'd want to locate a fast solution to your staying point.
If you prefer speaking to a human, they offer everything from chat to them or talk to them on the phone.
Content Management Systems (CMS), Website Builders, and Developer-Friendly Tools
A2 Hosting works consistently with all major CMS (content management systems). You can introduce a WordPress, Joomla, OpenCart, Drupal, or Magento site with only a couple of steps. No requirement for an engineer to help you with it.
They have a couple of extraordinary features for these locales, similar to the A2 Optimized WordPress module that will accompany Turbo plans to keep your website speedy.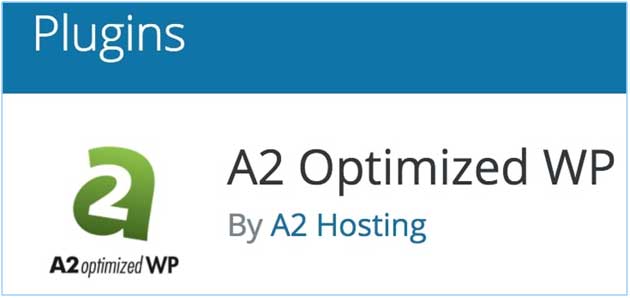 A2 Hosting additionally has its own web designer, appropriately named SiteBuilder. These are perfect in case you're searching for something somewhat easier to use to modify your site without anyone else without googling a solitary HTML tag. Simply remember that pricing and plans are somewhat unique for A2's SiteBuilder (than the ordinary shared hosting plans).
If you're a webmaster or agency looking to host dozens of sites under one roof, A2 Hosting comes with developer-friendly tools. You can get admin-level access on servers, free server rewind backups, and multiple versions of everything from PHP to MySQL, PostgreSQL, Python, etc.
In case you're a website admin or organization hoping to have many websites under one rooftop, A2 Hosting accompanies designer inviting apparatuses. You can get admin-level access on servers, free server rewind backups, and multiple versions of everything from PHP to MySQL, Python, PostgreSQL, etc.
Anytime Money-Back Guarantee
Like most of the other ordinary hosting, A2 Hosting is also used to have the standard 30-day money-back guarantee.
You know the circumstances and issues within the first 30 days, and you can get a complete refund. No questions asked. So, A2 has changed this policy a little. And clients are the ones who are getting benefits.
A2 Hosting will now offer an anytime money-back guarantee.
You'll still get a full refund of your money within the first 30 days. Or else if you're also planning for 3 years or more than that to get the best deal, but you are not satisfied after the first year?
Then you can still ask for your refund and receive an unused amount back for the remaining time i.e., for the last two years of the deal which is left.
Cons or Negative Points
A2 Hosting has a lot of Pros going for it.
However, fast speeds and friendly support can't make up for everything.
Here's a look at each of these issues in detail:
High Renewal Rates (And 15-Day Deadline)
A2 Hosting highlights a slight value break on long term plans. So prepaying for a long time will thump two or three dollars off the monthly price value, which can include through the span of three years.
A2 then improves upon the deals for new clients with special introductory pricing that fundamentally cuts all costs down to the half.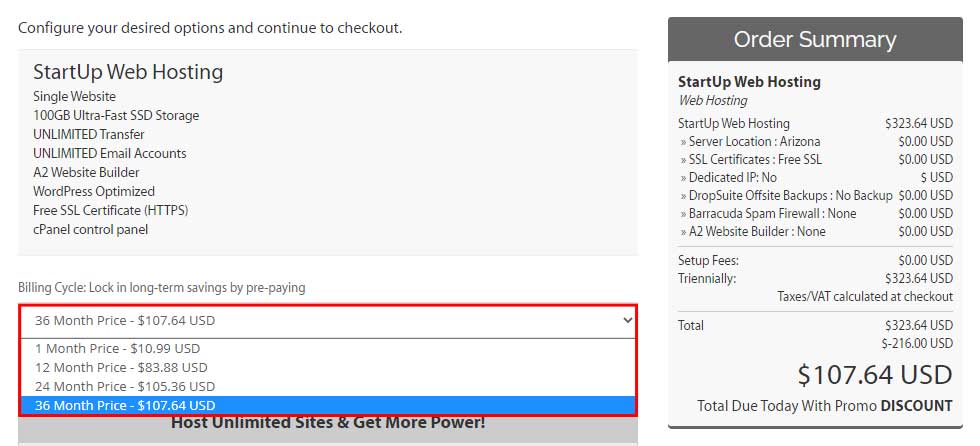 According to their terms and conditions, you have to give them a written cancellation request – 15 days before the beginning of the Renewal Term, through their customer service portal or you can also mail them at [email protected].
What happens if you miss this 15-day window? You will be on the snare for paying for the next renewal plan, which will automatically get renewed, and then you're not qualified to get any refund.
As it were, they're betting on you neglecting to stop your account before it's too late for no return.
Restrictions on Cheapest Plan
A2 Hosting's cheapest shared hosting plans start from $2.99/mo. (Startup) which is 66% off the regular price. That's not the lowest price that we have seen yet, but it's quite good.
However, if you start comparing to the other hosts then you will notice some of the issues that arise.
In their plans, you only get a single website, with unlimited storage, a free SSL, the site migration, and Anytime Money-Back Guarantee.
These perks are not enough for making A2 a good choice, like Turbo Servers that provide up to 20X faster page loads, server rewind, or even offsite backups.
A2 Hosting Plans and Pricing
| PLAN NAME | DISK SPACE | BANDWIDTH | MONTHLY PRICE |
| --- | --- | --- | --- |
| Shared Startup Hosting | 100GB | Unlimited | $2.99 |
| Shared Drive Hosting | Unlimited | Unlimited | $4.99 |
| Shared Turbo Boost Hosting | Unlimited | Unlimited | $9.99 |
| Shared Turbo Max Hosting | Unlimited | Unlimited | $14.99 |
| Managed VPS Power+ | 75GB | 2TB, 4GB Ram | $25.00 |
| Managed VPS Prestige+ | 100GB | 3TB, 6GB Ram | $35.00 |
| Managed VPS Pinnacle+ | 150GB | 4TB, 8GB Ram | $50.00 |
Shared Hosting
There are both Linux and Windows server packages available for shared hosting.
Tools with a Linux based solution:
PHP 5.3, 5.4, 5.5, 5.6, 7.0 or 7.1,
MySQL 5.6,
PostgreSQL 9.4,
Python 2.6, 2.7 or 3.2,
PERL 5.10, Apache 2.2,
js,
FTP / SFTP,
Free SSH Access,
SSL & Free SSL
Tools with a Windows-based solution:
NET 2.x, 3.x & 4.x,
Microsoft SQL Server 2014,
Windows Server 2012,
Access Database,
MVC 4 or 5,
Classic ASP,
.NET Core 1.1,
Silverlight 4 or 5,
FTP / SFTP,
SSL & Free SSL,
MySQL 5.6,
PHP 5.6, 7.0 or 7.1
There is little difference between the offering of a Linux and Windows-based solution, these are slightly more expensive than the other Windows packages, and the cPanel is different depending on which plan you go for.
The pricing for A2's Linux shared hosting solutions is as follows:
Startup
1 Month Price – $10.99 USD
12 Month Price – $83.88 USD
24 Month Price – $105.36 USD
36 Month Price – $107.64 USD
Drive
1 Month Price – $12.99 USD
12 Month Price – $107.88 USD
24 Month Price – $167.76 USD
36 Month Price – $179.64 USD
Turbo Boost
1 Month Price – $20.99 USD
12 Month Price – $179.88 USD
24 Month Price – $311.76 USD
36 Month Price – $359.64 USD
Turbo Max
1 Month Price – $25.99 USD
12 Month Price – $239.88 USD
24 Month Price – $431.76 USD
36 Month Price – $539.64 USD
Frequently Asked Questions For A2 Hosting Review
What is A2 Hosting cheapest hosting plan?
You will get the A2 Hosting cheapest shared hosting @$2.99/month. They also offer you a risk-free money-back guarantee within 30 days. It will also give you surety that, if you are not satisfied then you'll receive a full refund within 30 days or a pro-rata refund on the unused services if you cancel after 30 days
Can I install WordPress on A2 Hosting?
A2 Hosting gives you the choice of either having WordPress auto-introduced and configured with your request. When you have bought your hosting account, you'll get an email with the login data. The other alternative is to utilize a Softaculous 1-click WordPress installer that accompanies your cPanel control board.
Alternatives for A2 Hosting?
SiteGround
Bluehost
GreenGeeks
What extras do I get with A2 Hosting?
When purchasing web hosting with A2 Hosting you get a free Website Magazine membership. You likewise get $50 Bing/Yahoo Ad Credits. In addition, you get your site listed in Google in 24 hours with Attracta, and you get a free iContact email advertising trial. To wrap things up you get lots of discounts on buying WordPress subjects from Tesla Themes.
Do We Recommend A2 Hosting?
Yes, we do recommend it because A2 Hosting has consistently delivered best-in-class speed from the last so many years. Their customer support service is so friendly and helpful. All shared plans come with a free SSL certificate, CDN, and one free migration.
The only disadvantage is that the renewal rates are high. Also, their uptime is not too bad, still, they have to work on it.
At last A2 Hosting is quite a good host in so many aspects.
A2 Hosting Coupon Codes, Discounts & Deals
A2 Hosting offers quick, dependable, and extremely modest web hosting and A2 have set themselves up as specialists in upgraded facilitating that is 20X faster than their competitors in the market. Here you can take advantage of our special A2 Coupon that saves you up to 66% off hosting plans.
A2 Hosting Review on Twitter
We monitor all tweets about A2 Hosting and apply conclusion examination to characterize tweets as positive or negative. This permits us to yield an endorsement rating score, which depends on genuine individuals, positive and negative, assessments about A2 Hosting review on Twitter. A2 Hosting approval rating score is 81%. This depends on an aggregate of 1862 tweets that mention A2 Hosting on Twitter. There are 1506 mentions that share a positive opinion and 356 mentions express a negative opinion.
Thanks for reading this A2 review, I hope this article helps you get a better idea of what you'll be getting with A2 Hosting. However, if you have any questions in your mind, please leave a message and I'll try to help you.