SEMrush Review 2021: Share my practical experience of SEMrush all-in-one research tool that helps lots of bloggers, digital & affiliate marketers to beat competitors.
Are you serious about your passion for blogging?
Then you also have to be serious about your website growth and can't leave the growth of your website to any chance.
As a content creator or a blogger, you really need a reliable SEO tool that will assist you with a strategy to grow your website.
Need the best SEO tool for your Website?
Then SEMrush is one of the best leading competitor SEO research tools in the market till date. This SEO tool will check your website backlinks, track the keyword ranking or keyword research, competitor analysis, and most importantly do a complete SEO checkup of your blog or content. It is trusted by lots of professional bloggers and SEO agencies.
If you want to get more online audience, then it is important for you to get as much information regarding your website keywords but you also have to collect your challenger's keywords.
Then SEMrush best fits for you. We are not saying that it is a perfect tool but it is the best of all SEO tools and also has so many innovative features that can grow your business or blogging to another level.
In this guide, we are going to tell every single feature of SEMrush is offering. Recently they have also added lots of features; so it is the right time for you to read this SEMrush review.
What is SEMrush?
SEMrush was established by Oleg Shchegolev in late 2008 with a vision to make it a content marketing platform and online visibility. SEMrush is an all-in-one toolkit for the promotions of your blogging and online business. Most of the online dealers are using SEMrush because SEMrush is following the strict rules and also make sure that you will get exactly what you are wishing.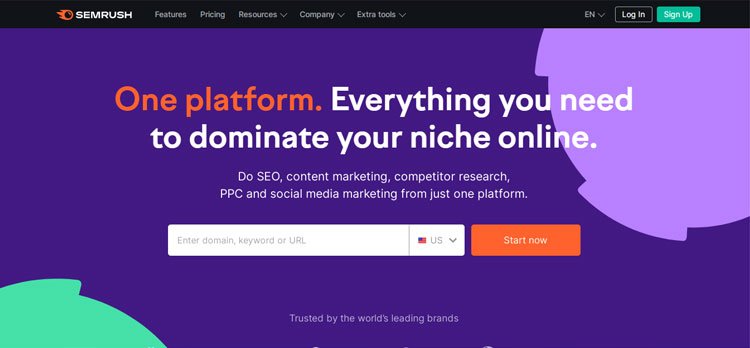 A widespread SEO tool that is suitable for the experienced person and beginners are similar to use, it will also offer you so many apps like SEO toolkit, social media toolkit, content marketing toolkit, advertising toolkit, and challenger research toolkit. Hence, all of these applications include a lot of helpful features that have been developed and polished over the years.
Here in this tutorial of SEMrush you will get an in-depth investigation of what SEMrush will offer you and how to efficiently use this SEO tool for your maximum profit. And we will also discuss its plans and pricing to determine that is it the right platform for you or not.
Type
SEO tool
Starting price
$199.95/mo
Features
1. Competitive research
2. Keyword research
3. Link building
4. Rank tracking
5. Onpage and tech SEO
6. Crawl audit tool
7. Content analyzer
Competitors
1. Ahrefs
2. Moz
3. Spyfu
SEMRush Features
When using SEMrush tool, You can perceive how it's gathering information to help you in perceiving how your site and your rival's site work.  below I'm sharing about major features of SEMRush that you should know of. SEMrush pulls data in two fundamental ways.
To understand all the features of SEMrush, then you have to claim your 7 days free trial of SEMrush Pro account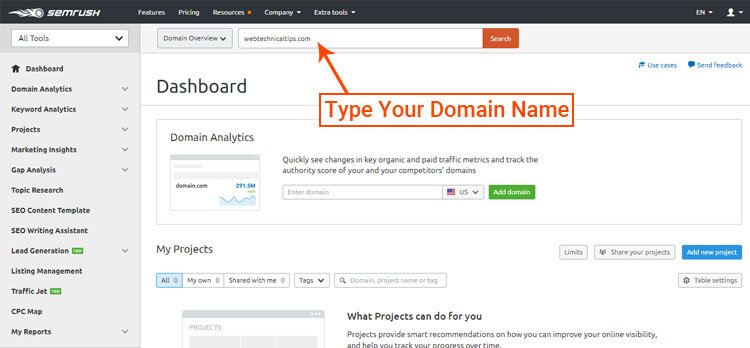 The primary methodology is via search bar: You can show reports of a domain and view keyword selections when you embed the URL of a website in the search bar.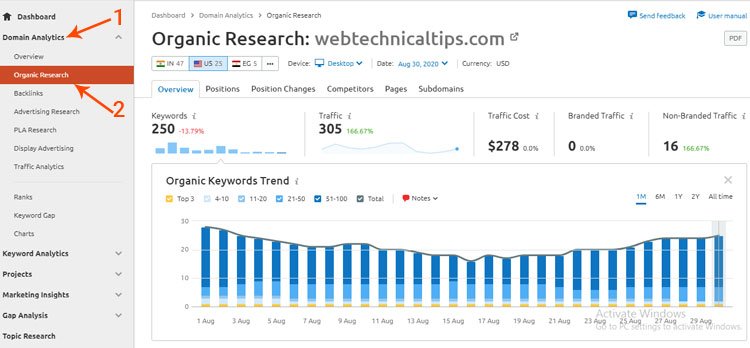 The second methodology is by project creation: Data is gathered from outside their servers through SEMrush ventures and projects. They will evaluate the perceivability of your website and then compare the performance with your rivals.
How to use SEMrush?
Like every top superior SEO tool, SEMrush also has a dashboard section that shows you an overview of your dynamic campaign. This is the first thing that you will see after signing into your recently taken SEMrush account.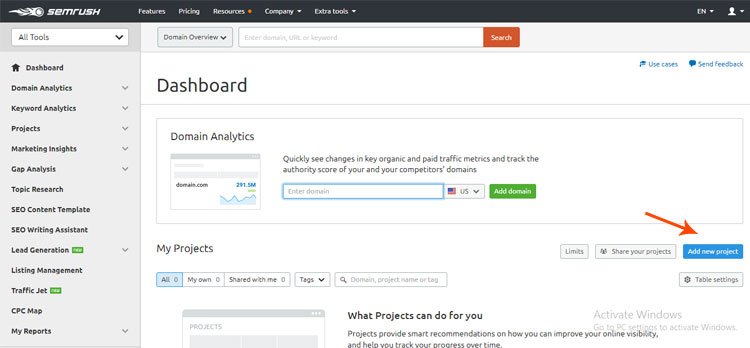 Now, the first step is to create a project for your domain.
To create a new project, click on Add New Project. After that pop-up appears and fills in the details.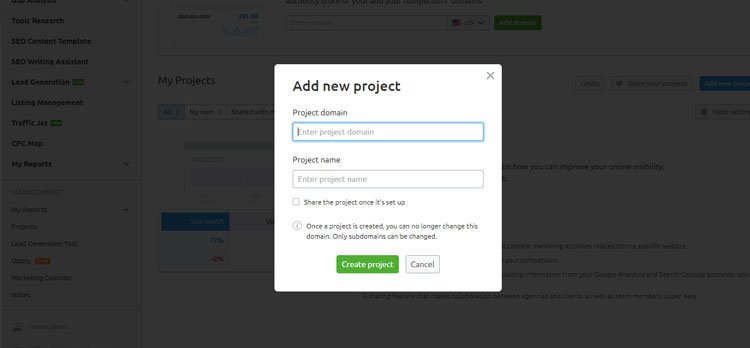 The second you have clicked on Create, SEMrush will instantly show off its listings of recommended marketing and research tools.
Some examples are the position tracker, on-page SEO checker, PPC keyword tool, and the content analyzer.
While using SEMrush take note that you can also access some of the tools like a tracker, PPC keyword tool, on-page SEO checker, and the content analyzer from the Dashboard section in the main menu.
Toolkits for SEMrush
SEMrush toolkits are a combination of so many tools and guides that will help you for a better understanding. If you use a toolkit then you will get access to a wide range of tools and reports.
Although you might not need some of them, you can add or delete your toolkit that suits your business.
If you are a newbie to SEMrush and you may not realize what tools you need then don't be worried about that, you just have to make your mind and consider your priorities as they will assist you in finding the right tools.
Remember that – What is your goal, and what tools will better help you gain this aim with your SEO research tool?
For each and every method SEMrush will provide your toolkit, so you have to choose what is appropriate for you.
Let's walk through all the features that SEMrush offers in it's SEO Toolkit:-
Competitive Research
Keyword Research
Link Building
Rank Tracking
On page and Tech SEO
Competitive Research
Here you can analyze any of the domains and know about the weaknesses and strengths of your competitors and also you can do organic research, do keyword gap, display traffic analytics, and backlink gap analysis.
The existence of your business is visible, and competitors are constantly threatening it. You must always look over your shoulder and study the competition landscape attentively,
And you can profit from it: you can learn from the mistakes of your competitors, research their best procedures, and find opportunities.
Furthermore, you can benefit from it: you can gain knowledge from the mistakes of your rivals, search for their best techniques, and discover a good chance to get ranked.
This regularly happens when building up the SEO technique But the fight for customers has its laws and procedures in the digital space.
Despite the fact that you're blessed enough for your specialty not to be specifically challenged, you will handily be outranked in an internet search engine by another person, most likely from an alternate industry.
You need to monitor your rivals consistently to remain ahead always,
The following are the SEMrush characteristics that permit you to effectively and rapidly examine your opposition:-
Position Report
Keyword Gap
Traffic Analytics
Backlinks Competitors Report and Backlink Gap
Positions Report
You should turn to the Position Report in Organic Research for further study of your competitors.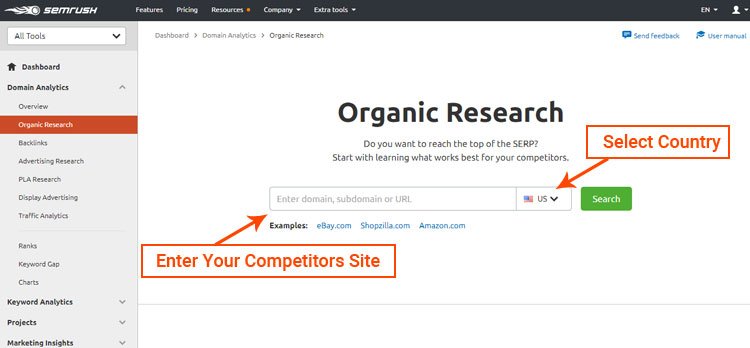 In the search window enter your competitor's website or domain and select the county and click on search.
On the next page, you can find statistical information at the top of the report Stats at the left that is the total number of keywords in our database that rank the domain in the top 100 sections,
The month to month traffic average for those keywords and the computation of the expense to run AdWords for every keyword.
The SERP feature shows the percentage of each search result. It is on the right side.
By tapping on one of those SERP features, the Position Table will be filtered for featured SERP keywords.
These SERP features are divided into two parts:-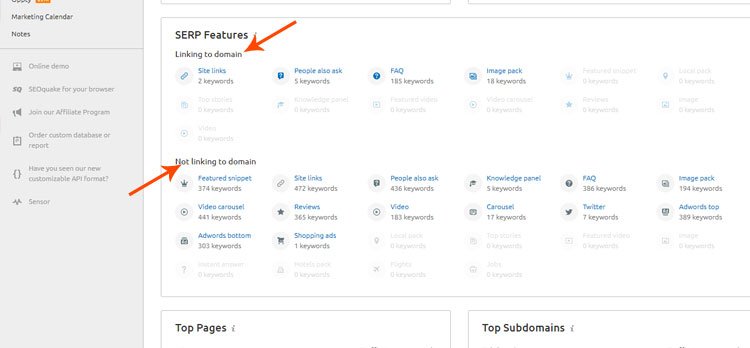 Linking to the site for functions with a domain link. Selecting for these outcomes will show all keywords highlighted by the focused domain;
Not connecting to the site for features that have no connections or that are not connected by SEMrush. All keywords with specific highlights on SERP will appear through filtering.
The right tab of this report has a Position tab, which is consists of keywords for which the focused domain is positioned or ranked for and all the filters that you have chosen will help you to arrange them as per various metrics.
To arrange the table up or down, you can use arrows next to the column name.
Below are the keyword data that you can collect from the report:-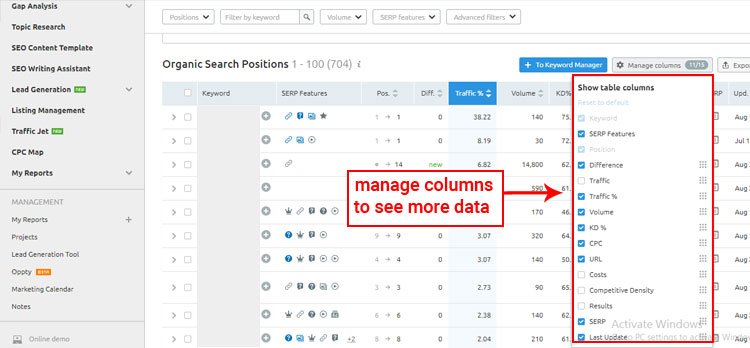 Keyword: This will measures how challenging it would be for a specific keyword to rank well in organic results.
SERP: it will give a glimpse of the SERP source from which SEMrush will find the report.
Competition: to know with which specified keyword the number of advertisers is using their advertising.
Traffic: The percentage of traffic to the website over the given time period from the keyword.
Volume: the monthly average search number (calculated on the basis of the last 12 months) in the selected database.
CPC (Cost-Per-Click): This is the average price of a click for a Google AdWords campaign.
URL: The URL shown for a specified keyword in search results.
Costs: The percentage of the total traffic cost from the keyword on the website over a specific duration.
Trend: This will show the changes in interest over the past 12 months in the specified keyword.
Last Updated: During the previous modification of the specified keyword in our server.
Keyword Gap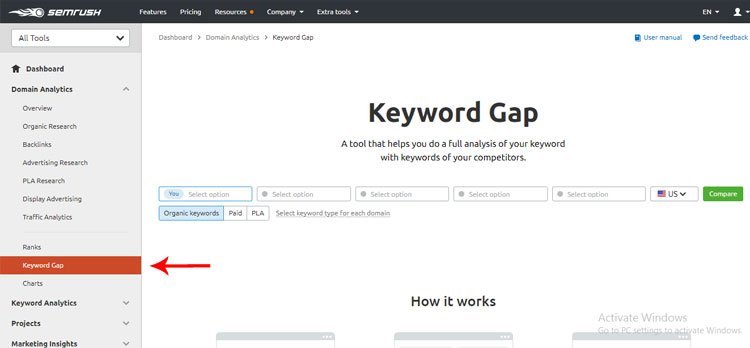 It's currently an ideal opportunity to differentiate the proficiency of your site with your rivals in the Keyword Gap Analysis and see whether your keyword plan is deficient in any way.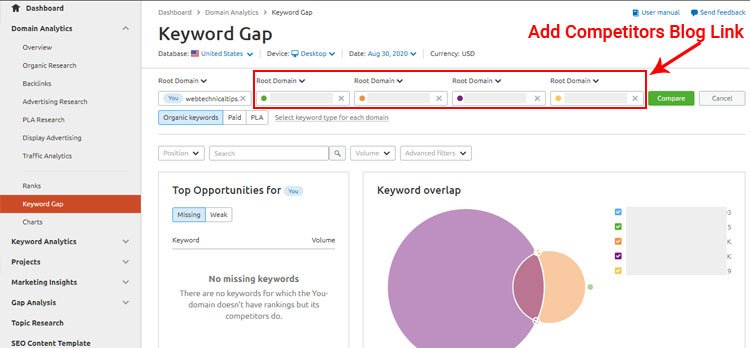 The Keyword Gap Analytics will let you coordinate to five domains to classify, which keywords both domains share or which keywords are unique to each domain.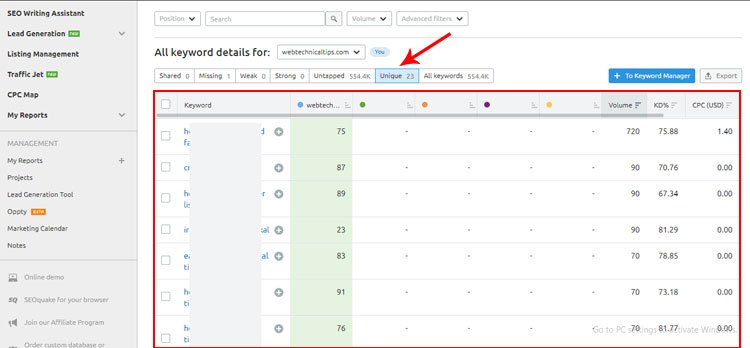 The convergence structure can likewise be set to Unique for the keywords of the first domain and obtain the keywords for which the first domain is positioned.
The keywords you have likely missed and need to remember for your content are extraordinary for your rivals. You can utilize the SEMrush SEO Content Model to change the content difference rapidly.
Keywords basic to you and your rivals can be utilized to make sense of where you are missing and need to improve.
Traffic Analytics
It is an extraordinary thought to follow and dissect the traffic sources of your rivals and also figure out whether your advertising methodologies should be improved or altered.
To get the specific numbers, you won't arrive at the information of your rivals.
In any case, You can use SEMrush Traffic Analytics, which will be proper for you to survey your rivals dependent on clickstream information from outside providers.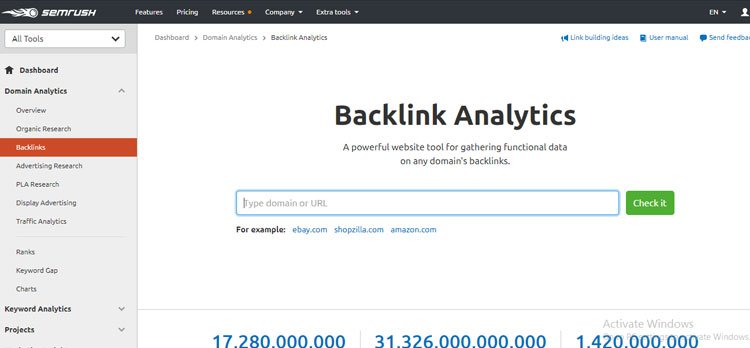 You just need to type in the space you wish to dissect and begin watching.
To gain a fast look at the competitor's performance in driving traffic terms,
Begin with the Traffic Overview page,
Decide if referral traffic, direct traffic, web-based media traffic, or search engine traffic, is the most characteristic highlight of their viewers Figure out which online journals, web search engines, and informal organizations give the adversary the most traffic.
Such data helps you all the more precisely approach your crowd and distinguish opportunities for cooperation.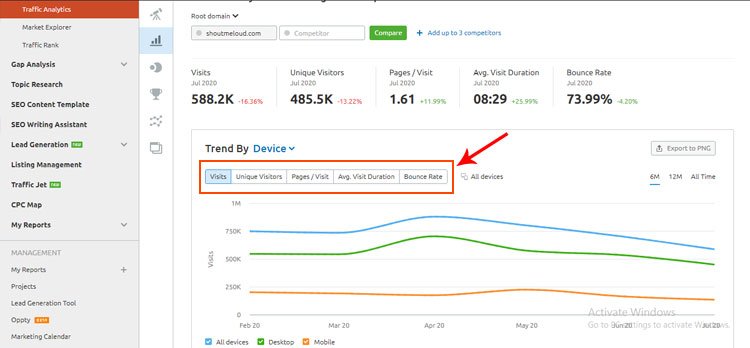 Track bounce rates and average meeting periods for the most engaging sites of your rivals, and screen the best competitors carefully.
You will comprehend why viewers are drawn and how they are compelled to remain on the website. The more the client remains on the web, the higher the possibility of a change.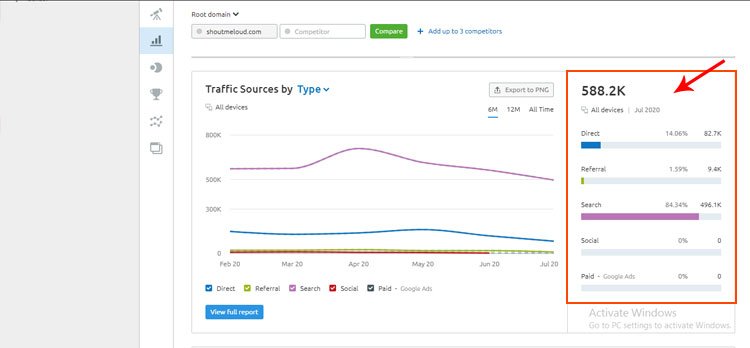 You can likewise check the traffic sources which helps you to discover where the website is getting more traffic.
You can likewise utilize the Destination Sites tab to get the correct information from where the site is getting traffic.
Backlinks Competitors Reports and Backlink Gap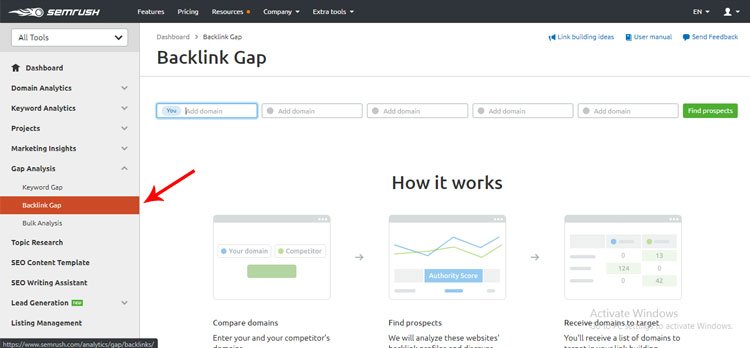 Backlinks are a critical factor for rankings, particularly when they come from trusted industry resources.
The apparatus of Backlink Gap permits you to reveal the connection gaps you don't have, contingent upon the backlinks of your rivals.
Yet, you should initially perceive your rival's backlinks.
The line-up will change from your keyword rivals, as a large portion of your organic adversaries has explicit backlink profiles.
In the Backlinks Analytics, enter your competitor's website or domain.
The Competition level accurately classifies the rival in the report.
This measurement demonstrates the closeness of the opposition and is estimated in the level of the opposition level in organic research aside from that the measure of backlinks in contrast with the absolute number of the domain backlinks is utilized rather than the number of keywords.
You can likewise orchestrate it utilizing the Domain score (DS), Which uncovers the significance of a domain-dependent on the entirety of backlinks or by the trust score (TS),
Which recommends the dependability of an area subordinate upon the consistency of its backlinks.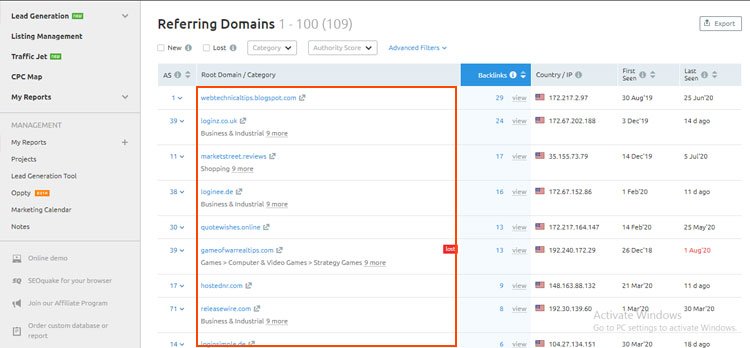 Select on the quantity of regular referring domains to see domains connected to your rivals however not associated with you.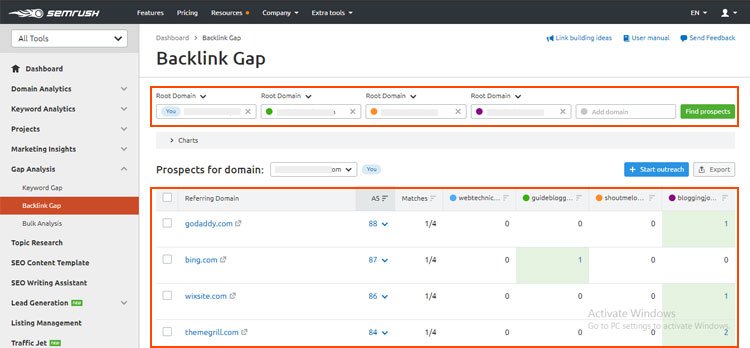 You may reach up to five domains, including your own, in the Backlink Gap and by this, you can discover your rival backlinks.
Advantages and Disadvantages of Using SEMrush
Every tool has certain pros and cons, SEMrush is no different. After SEMrush Review Now time to the conclusion.
It is a helpful tool with numerous functions. However, its disadvantages are likewise are also essential to mention.
Here are some of the SEMrush Pros and Cons –
Pros Of SEMrush
Largest all in one SEO tool – you can get everything you need to see in one place. You can save lots of money just by using this one SEO tool, you don't need access to other premium tools like Ahrefs, Long Tail Pro, Moz, SpyFu, etc.)
The traffic analytics feature allows you to see visits, dwell time, the bounce rate of any website.
Finding high potential keywords is really easy, as they will provide you accurate KEYWORD volume data that will help you to rank your website and it is very easy to use.
Wants to know about how your website is performing on Google, is it good or bad? Simply use their website auditing feature that gives you an easy-to-follow set of instructions on how to make concrete improvements to the technical SEO and on-page SEO aspects of your website.
It has the largest keyword database in the world and it gets frequently updated.
By comparison to its competitors, it will provide you a 7-day free trial which compares positively with some competitors.
Social media toolkit consists of features like keyword ad history, social media poster and advertising, ad builder, tracker, and PLA research.
They will provide you three channels of customer support are via phone, chat and E-mail.
Cons Of SEMrush
You need some time to get used to it. Despite the fact that their interface is simple to utilize yet you have to watch some of their training videos or read some tutorials to understand it properly.
It's hard to use this SEO tool on a mobile device.
It only comes with one user account, and for buying more than one then it will be a little expensive for you.
Some competitive analysis features cost an additional $200/mo. extra.
It will only provide you the data for one search engine, which is only Google.
SEMRush Plans and Pricing – Which is best for you?
SEMrush provides multiple plans, which can be paid monthly or annually. You can pick the one as per your preference.
To get the best price, we recommend you to pay annually rather than paying monthly. Yes in the beginning it will cost you more, but at the end of the year, you'll save money in comparison with the monthly plan.
How about we take a dive in and work out how great it is for various structures in every one of these four plans:
Pro plan
Guru plan
Business plan
Enterprise plan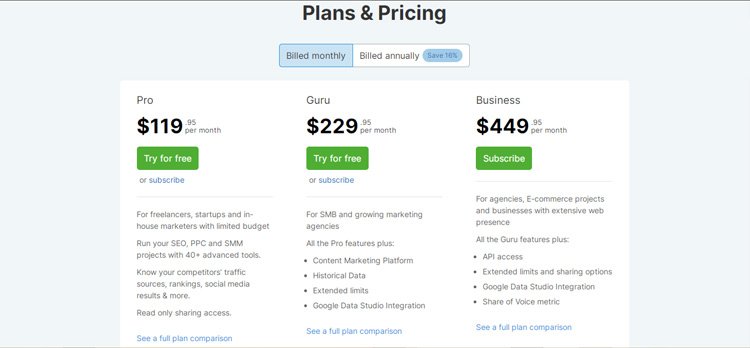 SEMrush Pro Plan
A certified bundle for freelancers and single-entrepreneurs is SEMrush's most fundamental plan, is the Pro Plan.
This framework restricts the number of tasks to five and isn't viable for skilled freelancers that work for a huge number of customers.
This is, nonetheless, the ideal arrangement for an organization proprietor who might want to utilize SEMrush to optimize his site and not center around SEO campaigns with customers.
Blog proprietors who might want to do their SEO investigate and have quite recently joined the organization should explore with it.
The Pro Plan will costs you $119/month and if you select Billed Annually then it will cost you $99/month, almost you save 16% if you select Annually Plan.
Reasons why you should choose this plan:
Your platform makes a specific measure of your expense, and you can go through $119/month to gain significant data, which can support your online business benefits.
You don't need to work with customers on SEO missions, and you never need to follow several rival sites for a specific brand or business.
You're all right without access to recorded data.
You don't need to report in excess of 500 keywords consistently. You need not bother with PDF documents on a brand white-label to speak with buyers.
You won't have to interface some other viewer to your account. You are the main individual.
SEMrush Guru Plan
You ought to consider investing resources into the SEMrush Guru plan where you deal with and work on 50 ventures, and furthermore isolate the traffic flow depending upon the gadgets utilized by shoppers on the off chance that you have in excess of five sites added to your collection.
It encourages you to set up the best content technique; since you can rather depend on your content's length and structure, We expect that the plan is unquestionably more useful than the Pro Plan for advanced advertising professionals.
The SEMrush Guru Plan costs $229/month if you select billed monthly or it will be $191/month if you select annually.
Reasons why you should choose this plan:
You own a digital marketing firm and have various organizations that are run for the entire day.
Verifiable information is expected to assess keyword and specialty trends and see what has occurred previously yet doesn't work well now.
You need to share the customized PDF documents with your customers and organizations and don't need the default SEMrush marking to be utilized.
SEMrush Enterprise and Business Plans
The organization and field-tested strategies are ideal for digital marketing agencies, wide-scale organizations, and enterprises.
At the point when expenditure isn't a limitation, I firmly prompt all digital marketing businesses with at least ten or more purchasers to have the Business Plan.
Big organizations will arrange a customized SEMrush value as per their determinations with the SEMrush team.
The expense of SEMrush Enterprise and Business Plan is $449/month, it will be charged month to month and $374/month if you select billed annually.
Reasons why you should choose this plan:
You don't need budget limitations and no restrictions on your plans or on your data.
Programming interface availability and application programming the management.
Studio records, PDF reports planning, and white marking for Google information.
How to get SEMrush Pro account free for 7 days?
You will get SEMrush Pro Free Trial for 7 Days Worth $199.95.
Since we have secured a great deal of features in this guide, It permits you sufficient chance to investigate every component in detail with SEMrush free access for 7 days.
Here's the simple Step-By-Step guide on how to get the SEMrush Pro account free for 7 days.
Step 1: Click on the above-given link to get 7 days free trial. Click on this link on this page.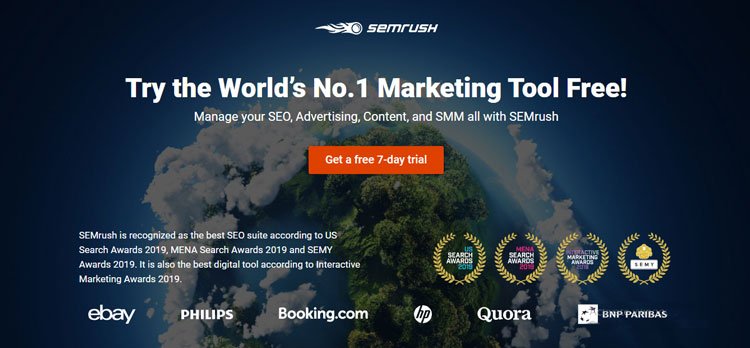 Step 2: Click on the Get a Free 7-day trial! option.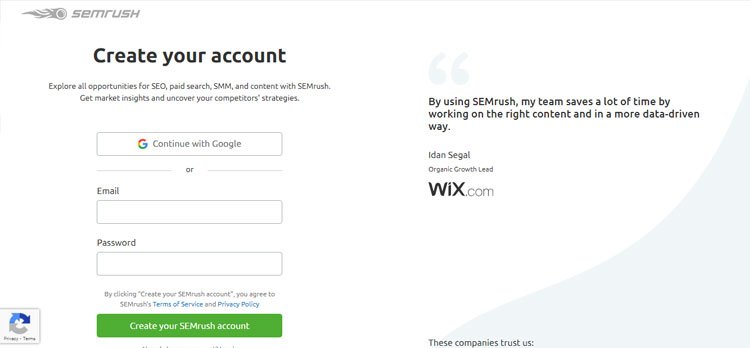 Step 3: Now, you will be redirected to the new page and where you have to create your account and then register by entering your email and password of your choice, and after this, You will be taken to a plan selection page.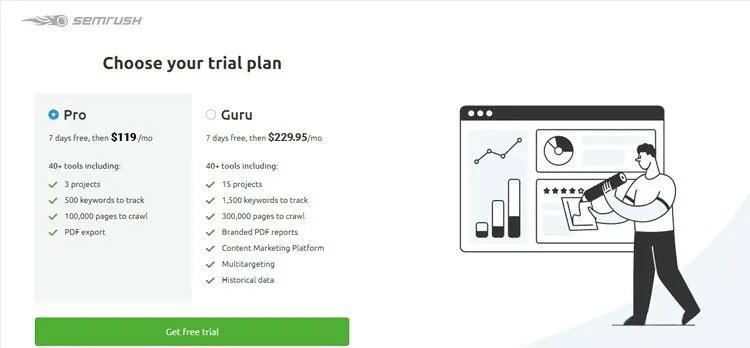 Step 4: Now you can select Semrush Pro Plan and after that click on Get Free Trial Button!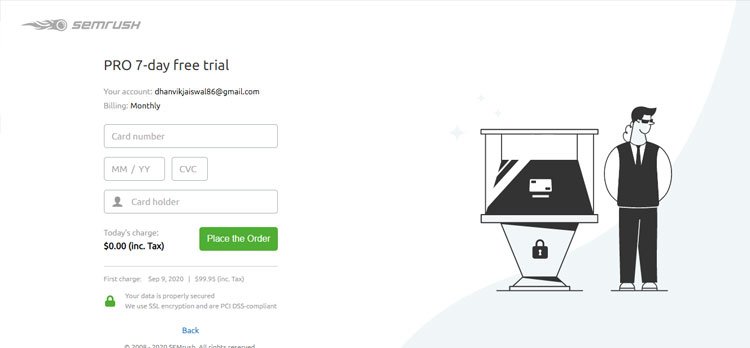 Step 4: Now you have to enter some of your Card details to grab a Pro account of SEMrush worth $119.95 even without spending a single penny.
At last, you have to click on the Place The Order option and then you'll get the full access of the SEMrush Pro account for 7 days.
Know your SEMrush Dashboard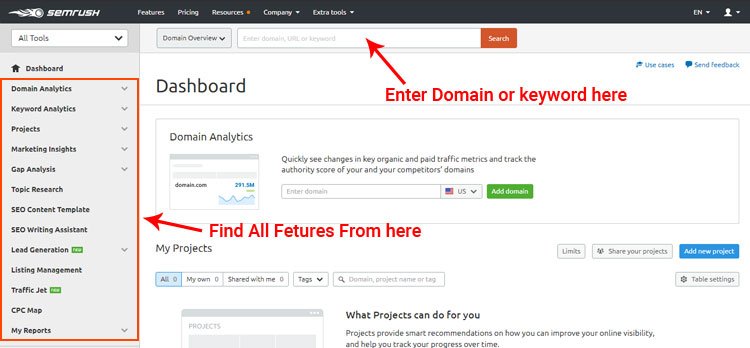 This is the place where summed up domain data can be seen. The extension and name of your website is basically a domain.
In the dashboard, SEMRush educates you regarding the number of natural keywords, organic traffic, and the quantity of publicizing keywords and promoting traffic for which you rank
You can move showed the information to one month or one year. The dashboard incorporates information for site examining, position tracking, backlink inspecting, on-page SEO auditing, and brand examination.
By hypothesis, the dashboard offers a thorough perspective on your domain results.
SEMrush Dashboard Shortcuts
Site Audit — The "Site Audit" tool is an excellent starting point if you're new to SEMrush. It performs a thorough analysis of your website's health and automatically generates actionable reports.
On-Page SEO Checker — If you already have pages that rank, the "On-Page SEO Checker" can show you the way forward. It analyzes on-page ranking factors and collects optimization ideas that will help maximize your organic visibility.
Social Media Tracker — SEMrush also has tools for marketers who prioritize their social media presence. By connecting your social media accounts, you can track your follower growth, posting strategy, and audience engagement in one place.
Brand Monitoring —The "Brand Monitoring" tool lets you listen to mentions of your brand or competitor on the web. This involves various external sources — from social media networks to industry news sites.
Notes —If there's one thing we know about SEO, it's the fact that it's ever-evolving. SEMrush makes sure your SEO knowledge is constantly updated by consolidating news regarding search engines in the "Notes" card.
SEMrush Sensor — Speaking of search engine updates, the "SEMrush Sensor" monitors SERP volatility, which is indicative of ongoing search engine algorithm changes. You can also view your volatility score to determine if your website is affected by updates.
Backlink Audit — By now, you should know that effective link building is the bread and butter of SEO. Running a "Backlink Audit" will perform a deep analysis of your backlink profile to identify potentially harmful links.
Organic Traffic Insights — This next tool pulls data from Google Analytics, including metrics like bounce rate, average session duration, and so on. It can also identify the "(not provided)" keywords in your account, which are usually only accessible via tedious workarounds.
Display Advertising Tool —Lastly, the "Display Advertising" tool lets you preview the ad texts and banners for specific keywords. You can also enter the domain of your competitor to spy on their display advertising strategy.
Adding your Domain to SEMrush Dashboard
Got a good handle of the SEMrush dashboard?
There's one more thing you need to do before we proceed to SEMrush's other features.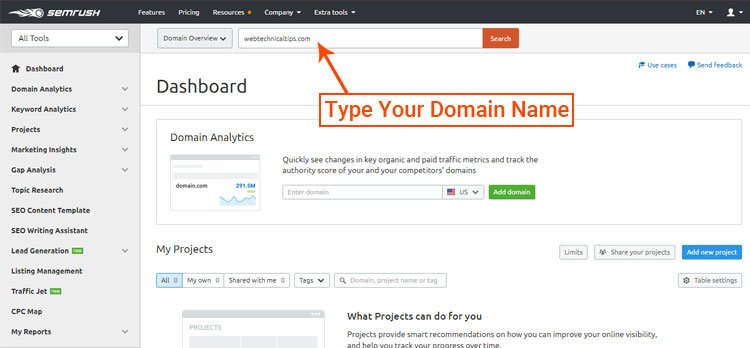 At the top of your dashboard, you should also see a card labeled "Add domains and monitor their performance."
What you need to do next should be rather self-explanatory. On the "Enter domain" field, type in your website's URL and click 'Add domain.'
Within seconds, SEMrush should reload the panel to display your domain along with crucial metrics, namely its:
Total organic keywords
Organic traffic
Ads keywords
Ads traffic
Current active display ads
That's just the tip of the iceberg.
After you add your domain to your SEMrush project, it's time to run a complete domain analysis.
How to Start a Blog In 7 Easy Steps & Make Money Online
frequently Asked Questions For SEMrush Tool
What is the SEMRush rank?
SEMRush rank is a custom positioning assigned out to every one of the 45 million or more domains that SEMRush tracks.
The number is determined depending on how noticeable a domain is in organic search rankings for the 100,000,000 or more keywords SEMRush tracks.
The lower the number, the better the position or rank!
How accurate is SEMRush tool?
SEMRush precision can sporadically be a little plus or minus however it gives an awesome outline of key areas in your site.
I generally suggest consolidating results over a couple of various devices to get the most exact information and SEMRush is consistently one of the main tools that we use.
How do I cancel my SEMRush account?
If you want to cancel your SEMRush subscription all you need to do is drop a cancellation request email to [email protected]
They will cancel your account for you within 1 business day.
Alternatives for SEMRush?
Ahrefs
Moz
Spyfu
How does SEMRush collect all the data?
SEMRush analyses the top 20 results for every keyword in their information base which highlights more than 100 million keywords and 45 million domains.
150+ High PR DoFollow backlinks List