Well, this post is regarding Best Google Adsense Alternatives, I know every blogger or publisher's first choice is Google Adsense but due to some terms & conditions all bloggers not survive in Adsense condition. Because most have limited knowledge about AdSense policy. As a result, mostly suspend their account. But we all know the value of our blog and efforts beyond to rank every post in search results. So in this post, I tell you about 11 Best Advertising Networks. These ad networks are great in terms of payout and ease of use. where you can apply as a publisher and monetize your blog and earn Online money.
So instead of thinking or bashing Google, Go ahead and do smart work with other ad networks!

11 Best Google Adsense Alternatives
So here is the list of best Google Adsense alternatives 2020, you can try to monetize your blog or website. so just scroll down and read how they work and why you join this network, so Let's Start
Free Web Hosting for WordPress
Top 150+ High PR DoFollow Backlink Sites List
How to Convert hosted account to non-hosted account
1. Media.net
If you are looking for a more reliable and most trusted network after Google Adsense then you must go with Media.net, Most similar, and AdSense alternative. Media.net is a joint venture of Yahoo & Bing. Media.net is a leading and innovative digital advertising company for both publishers and advertisers.  Media.net offers contextual ads of CPA, CPM, and CPC programs. Media.net manages high-quality ad distribution over 600,000 websites. if we talk about revenue then Media.net is #2 Number to perform contextual advertising business worldwide. Media.net has 1000+ in key operation centers across America, Europe & Asia.
Media.net has a minimum of $100 payout and pay through web money or PayPal. the best part of this network is no minimum traffic requirement. so there is no question you are a new or small, Best AdSense Alternatives for Low Traffic Website. if your words have power then Media.net is for you. If we go about account setup then usually they take 2 days average time to get your account approved and also give you an extra 10% over your first 3 months earning. In my opinion, it's better to wait for AdSense approval.
2. Infolinks
Infolinks is one of the largest ad networks in the world, Monetize more than 300,000 websites around the world. Use Infolinks to get benefit your unused space. this platform is very simple to integrate your site, with no setup fee to big or small, low, or high visitors. Best Adsense Alternatives for Small Website, Infolinks popular for their in-text formats. if your website is content-centric then this network is best for you. Infolinks advertisers are selected based on quality and on-time payout that's why they work with many trusted advertisers like eBay, Facebook, Amazon, Ali Express, Pizza Hut, and many more.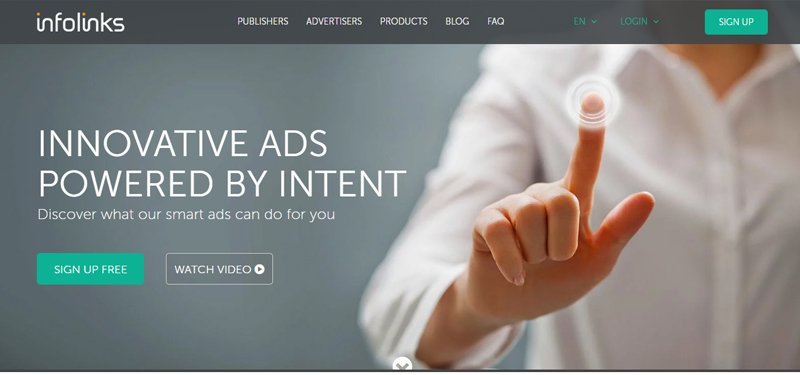 Infolinks offer banner ads, overlay ads, in-text ads, and in-frame ads. you can choose as per your website. Minimum payout is 50$ and they pay through Paypal, Payoneer, bank wire transfer & check.
3. Chitika
Chitika is very slimmer to Adsense, on another language you can say if we talk about Adsense alternatives then Chitika is my first choice. Chitika also serves only contextual ads. you can also use Chitika with Adsense. if you have good search volume then you can earn a huge amount. This Network is also good for beginners, grants instant access, and also no minimum traffic requirement.
if we talk about payment mode, Chitika pays via PayPal 10$ & 50$ with a cheque. which is good for New Blogger. Also great support for Publisher.

4. RevenueHits
RevenueHits is one of the best ad networks which work on a CPA-based platform. They Pay on Every Successful Action. RevenueHits has a Variety of ads Formates like Display Banner, Button, Footer, Interstitial, Pop Ads, Shadow Box, Slider, Dialog, Notifier. Over 2 billion ad impressions served daily across all GEOs. It pays 10$-50$ for every complete action that offers very high CPA Rates.
Minimum Payout is 50$ and payment through Paypal, Payoneer, and Bank Transfer.
5. Propeller Ads
Propeller Ads is one of the biggest pop-under networks with instant approval and fast payment. propeller ads network monetize website related to the following niches: mobile, Social media, software, games, dating, finance, and more. if you work with similar niches then this network performs better then Adsense. If your traffic mostly from the mobile device then you must try this ad network because they work with monetizing apps.
if we talk about payment then they work on NET 30 Modul. Minimum Payout is 100$ for Payoneer and Payza and 550$ for wire transfer.
6. Bidvertiser
Bidvertiser is also a famous and trusted ad network for a new blogger. They offer a Different type of ad formats. so as per your blog you choose ad types. They do not offer very high-quality ads but due to timely and low payout, this is a beginner choice.
Minimum Payout for Bidvertiser is 10$ and pay through bank transfer, PayPal, and check.

7. Revcontent
Revcontent is now the world's fastest-growing content recommendation network right now. Revcontent has good CPC Rate, paying up to 10 cents per click and they have also trusted Advertisers all around the world. so as per your traffic you monetize your website and earn as similar google Adsense.
some of the trusted websites like Forbes and PCWorld use Revcontent ads. but before apply this network you have to high quality traffic. Alexa rank should be 20k and if your site from Indian geo then your Alexa rank must be under 7k. Revcontent pays his publishers on a net 30 basis with a minimum threshold of $50 payouts and pay via Paypal and check.
8. Adbuff
if you want to monetize your website with Adbuff ad network then your website has a minimum of 2000 unique visitors per day to get an approval of publisher account. Adbuff is a high rated CPM and CPC ad network high-quality CPM rates. Adbuff has a premium advertiser who offers high-quality ads. Adbuff also offers a mobile application for its publisher.
Minimum Payout threshold is 100$ and pay through PayPal, Payoneer, Bitcoin, and wire transfer.
9. PopAds
PopAds is the best ad network for a small publisher and Best Google AdSense Alternatives for blogger, there is no minimum traffic requirement. PopAds is a premium ad network that also gives you instant approval, few minutes take to set up ads. They give a better CPM rate than other ad networks
The minimum payout is 5$ and pay through Paypal and Payoneer.
10. Adsterra
Adsterra is the fastest-growing ad network for a publisher with a higher CPM. also, run lots of ad formats for mobile and desktop traffic. Ad formats include so many category banners, pop-unders, web push, notification, direct links, and many more.
Adsterra works on the Net 15 method and the minimum payout threshold is 100$ and pay through PayPal, Payza, Bitcoin, Wire Transfer, Webmoney, Paxum, Skrill, Wire Transfer, and ePayments.
How to Install Free SSL (HTTPS) Certificate to your Website
How to Make a Festival Wishing Website 202 (Full Guide)
Best Way to Get High-Quality Backlinks For Website or Blog
11. Amazon Ads
We all know Amazon is the world's biggest online store. As a Biggest online store in the world, they offer huge commissions to their affiliate partners. Amazon allows you to add dynamic images to your website or blog, so there is no limitation of earning.
But Amazon does not work on CPM and PPC Modul. They give you a commission as per category mention. For example, if your blog is related to Mobile phone review. then you add relevant products as per your review. so there is a chance to increase sales. and you guys earn more than Adsense. so there is no limitation of any earning. your earing increase when any festival comes like Christmas and new year. pay through bank transfer.
As per my knowledge, I share some of the ad networks lists which you guys use as Google Adsense Alternatives 2020 for Blogger. I hope you like it definitely. if you have any best ad network which is the good payout and also trusted then comment me so that ill update it on my list. Thanks for your time, Have a Nice Day 🙂